The Education Curriculum Support Committee
announces the
2016 Tote Bag Program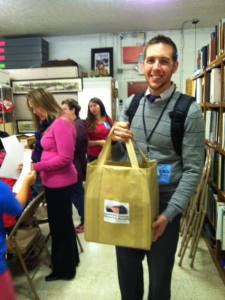 The Curriculum Support Committee met over this past summer and fall to update this program, which provides a portable tote bag full of local history.
The bulk of the bag consists of folders holding archival photos and documents about the development of Delaware County. We also included current photographs so that students could see how the county has changed over time.  Each bag also contains: two DVDs, all of the Society's pamphlets, a copy of Jeffrey Darbee's Delaware and Delaware County, a folder on the history of the Nash House, and a teacher resource folder with lesson ideas for using primary documents and reading lists.
For a detailed Inventory Checklist of the 2016 Tote Bag, click here.
Save
Save