Our History, Our Heritage Capital Campaign
We envision a

future
where we continue to remember and honor
our rich

past

.
Preserving our history has never been so important…
… especially since Delaware County is one of the fastest growing counties in the state of Ohio. With that kind of growth it is very easy to lose sight of our past. From farmers to presidents to people passing through on the underground railroad and American Indian settlers, Delaware County has a tremendous history to showcase.

Education is Our Heartbeat
Adult education is an important part of our work and includes monthly programs, walking tours, seminars and more. We host at least ten special historical programs per year to audiences of hundreds of people.

We also serve thousands of school children who attend our educational presentations each year. These include walking tours of important historical buildings and locations, history talks focusing on the Underground Railroad, our role in the American Revolution, early settlers and American Indians in Delaware County, scavenger hunts, demonstrations of historical artifacts, and more.
Capital Improvements are Crucial
The Delaware County Historical Society has embarked upon a two-year, $300,000 campaign to provide the support needed for vital repairs on three of its four historically significant properties: the Barn at Stratford, the Meeker Homestead & Museum and the Cryder Research Library.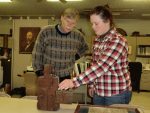 Improvements and repairs are needed on these properties to ensure their structural stability and functionality. For instance, the 1823 Meeker Homestead Museum needs lighting on the second floor. This greatly improves its use as a museum especially in the winter months. Critical updates are needed for the 1848 Barn at Stratford which has the added advantage of maintaining an earned income stream from events and facility rentals, such as weddings and corporate events.
Sustainability is Key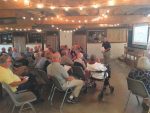 We know that historical education is essential and that seeing historical buildings and artifacts first-hand is one of the best ways to tell the stories of our mutual past. These buildings are a vital part of our work, showcasing the people and stories that have come before us. The upgrades to the Barn will also provide an opportunity for continued facility rentals which, as capital updates are made, are expected to increase to cover operational expenses.
This capital campaign guarantees the long-term success of the Delaware County Historical Society and preserves our collective rich history for many years to come.
 Capital Campaign Goal: $300,000
Please join us in ensuring the sustainability of our work.
These are our needs:
The Barn
The Meeker Homestead & Museum
Meeker Landscaping
Cryder Research Library
DONOR RECOGNITION:
Donors at all levels are needed and will be recognized in printed materials and on the campaign website.
Donors contributing $500 or more will be added to a donor board which is an exact replica of an original Stratford grist millstone located in the Meeker Homestead Museum. Naming rights will also be available to areas within the buildings for certain levels of giving.
For questions contact Executive Director Donna Meyer:
Call 740-369-3831, ext 3
or use our Contact Form to send a message.
Save
Save
Save
Save
Save
Save