Capital Campaign
Investing in the future of Our History
The Case for Support
The Delaware County Historical Society's mission is to promote and sustain interest in the history of Delaware County, Ohio, through historical preservation and education.
The most important way in which this mission is achieved is through the ownership of historically significant properties that help to tell the story of our County's rich history.
We believe passionately that it is vital to educate future generations of residents and leaders of our community on how our past brought us to the present moment and prepared us for a promising future.
For that reason, the historical society has embarked on the Capital Campaign to maintain and preserve these important properties.
20 Years of Bringing History to the Delaware County Community
For over 20 years the Society has involved the local school children in tours to the Nash House, the Society's house museum located at 157 E. William St. Volunteers take programs into the local schools. Over 2,000 students were served in 2015 with visits, sometimes with a costumed historical character such as Abraham Lincoln.
Year after year, our programs for adults have also been very popular. Created from our own archives, these programs have included a myriad of topics all related to Delaware County history. Our archives in the Society Library are filled with artifacts, newspapers and photographs. We offer the opportunity to do research at no charge to the public. We conserve a rich archive of historical documents such as deeds and court orders.
A Generous Gift and Opportunity
Now we are embarking on a new venture. In 2010, a generous couple donated 6 acres and an 1823 brick home and 1848 stone end barn facing Stratford Rd. in southern Delaware County, to the Society. We are dedicated to preserving and renovating this property and buildings, preparing for a new mission of education of our county's 19th century life.
For over 190, years travelers have driven past the Meeker Homestead. Early on, they passed on horseback and in carriages. Today they pass on US Route 23 in cars and trucks. The property is a landmark on the Columbus Pike. It is one of the finest examples of an early 19th century farm in Ohio. Earlier in the 1800s, mills in the region provided revenue for this growing area. As an auction house in the 1900s, it provided a strong local business in the community. It now serves, as the "Barn at Stratford" and the "Meeker Museum", an opportunity to continue to showcase Delaware County's rich history. The museum will house our own artifacts as well as traveling exhibitions.
Renovation and Restoration requires Investment
Some renovation has already occurred at the Barn at Stratford. Since this is a landmark property in the Delaware community, care is being taken to maintain the integrity on the inside and outside of this important site. In order to expand our ability to host special events, a great deal more improvement is essential. The Society needs help in order to accomplish this task.
Financial help is needed to improve the educational component of the Meeker Home. The house presents a remarkable opportunity to bring exhibits from our own collections and traveling exhibits from other museums. This requires that the House meet the standards of 21st century museums, such as adequate climate control and lighting. This will be an expensive transformation from a 19th century residence to a modern museum.
These properties have stood the test of time. They have performed admirably as space for a home and private business for many decades. The time has come to move into a new, 21st century phase.
Capital Campaign – Invest in the future of Our History
The Delaware Historical Society's goal for this Capital Campaign is $300,000 in cash and pledges that are payable over three years. With your help, Delaware County will proudly showcase one of the finest local historic venues in Ohio, connecting children and adults alike with our amazing historic past. It will stand as a witness of the values that have made Delaware County among the healthiest and most prosperous counties in our great state.
Capital Campaign Needs and Naming Rights
Here is a listing of opportunities for "Naming Rights" to rooms and fixtures. Donations to this list will be either noted on a plaque adjacent to the site or on a "donor board". All donors will be recognized in our newsletter & website.
Top Priority – Urgent Need
$25,000 – Meeker Grounds Bridge and Added Landscaping – bridge across Willis Run and additional landscaping to mediate road noise
$20,000 – Barn Floor Restoration – concrete floor is discolored, cracked, and uneven causing a potential for falls
$10,000 – Meeker Pavilion Creation – this involves tear-out of flood-prone building and create a space for outdoor events and reunions
High Priority – Current Need
$18,000 – Meeker Museum HVAC for 2nd floor – lack of HVAC system prevents having displays and artifacts in that space
$10,000 – Barn Restroom Expansion including handicap accessibility – needed to accommodate those with accessibility issues
$10,000 – Barn Kitchen Space Renovation – needed to create a more "friendly" catering kitchen
$10,000 – Meeker Museum Visual Interactive Digital Display – interactive history to interest and engage young visitors
Medium Priority – Medium Term Need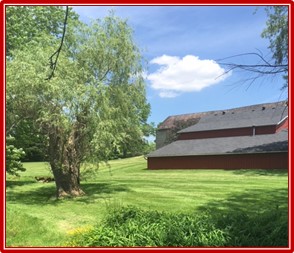 $29,000 – Barn Structural Preservation – connect frame to the stone-end walls, add hurricane ties to rafters, add rafters to reinforce damaged members, and add braces between columns
$12,000 – Barn Roof Coating – needed to preserve the barn structure
$10,000 – Meeker Museum Display Cases – protective cases styled to fit with the 1820's home
$10,000 – Cryder Library Weatherizing – Gutters, downspouts, railing, windows, landscaping and other improvements
$6,000 – Barn Gazebo Concrete Pad and Landscaping – needed to create an outdoor space for events
$5,000 – Meeker Museum Electrical Upgrades and Fixtures – most rooms do not have lighting fixtures
Lesser Priority – Longer Term Need
$25,000 – Meeker Museum New Roof – needed to replace a 30-year-old roof
Have Questions, or a Special Situation?
We will be pleased to personally assist you. Just use our Contact Form to send us a message.
Save
Save
Save
Save
Save
Save