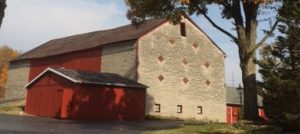 Forrest Meeker left Vermont in 1797, tried settling in in Pennsylvania, Southern Ohio, and Kentucky before buying 624 partially-cleared acres along the Olentangy River, including a wooden grist mill on the river, from John Beard in 1811.  The original log house he likely built for his family has disappeared from the landscape, and the early years of settlement were surely complicated by the War of 1812-14, when American forces used the road along the Olentangy as a major supply route for the effort to defeat the British at Lake Erie.  Colonel Meeker served as Quartermaster for General William Henry Harrison's army during the war, and with profits from supplying the army with provisions from the day and night operations of his mill, he was able to build a fine brick home in 1823.
He added the west wing to the rear of the house several years later as the family grew.  The milling operation on the river also grew, as did the settlement of the Stratford and Delaware areas and, in 1829, Meeker added facilities for the carding and fulling of wool from surrounding sheep farms.  In 1838, the mill was sold to Judge Hosea Williams and Caleb Howard, who established a paper mill on the river.
Colonel Meeker died in 1845, and the entire 624 acre farm was acquired by George Bieber, a neighboring farmer, and in 1848 he built the fine stone-end barn we see today, as well as a similar barn he built a half mile to the north.  Bieber died in 1855, and the property went through several splits and changes in ownership among his heirs and others until the homestead was acquired by the A. C. Miller Co. (which later became Union Fork and Hoe, Inc.) in 1920. Records show that the homestead was operated as a farm by tenants until Garth Oberlander, a recent Ohio Wesleyan University graduate, bought the property in 1941, farmed it for several years, and began his antique business, Garth's Antique Auction, in the 1950s. Tom and Carolyn Porter joined the firm in the 1960s, were mentored by Oberlander, eventually took over and expanded the antique auction business in the 1970s, and raised their family in the Meeker House, as Oberlander had done before them.  When the Porters retired in the early 2000s, the auction business continued under the ownership of Jeff and Amelia Jeffers, and remains a nationally known antique auction house.  In 2010 the Porters, who had retained ownership of the real estate, sold the corner to Turkey Hill, and donated the remainder, with all of the historic buildings, to the Delaware County Historical Society.
Click here for directions to Our Locations.
Save