The Delaware County Historical Society
presents

The Delaware Chair Company
Thursday, May 18 at 7PM in

The Barn at Stratford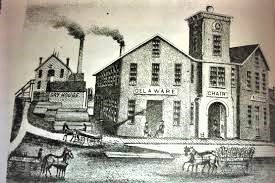 The Delaware Chair Company gained a national reputation for its creative products and workmanship. Join us as Society Volunteer Researchers present images and information about this local brand name. You will learn the origin of the company, its products, and the people involved in this local manufacturer. The presentation will answer the question: "What caused the Delaware Chair Company to close?"
Steve Bemiller, Garth's antiques expert, will discuss the characteristics of the chairs, the collect ability of Delaware Chairs, and some information on the value of the chairs.
You can view first-hand, the Society's collection of Delaware Chairs, but please do not sit in them.
Bring a chair or another object associated with Delaware County to the program for Steve to critique and share with attendees.
Join Us for this community program, no reservation or ticket is required, on May 18 at 7pm at The Barn at Stratford.
Come Early and Tour the Meeker House
Docent-led tours of the historic Meeker Homestead Museum will be available before this program from 6pm -7pm.  In the Parlor, visit the new exhibit "The 'Dinkey" and Interurban Trains of Delaware".
About Steve Bemiller

Steve Bemiller recently retired as Vice-President, Auctioneer and Appraiser with Garth's Auctions after 45 years in the auction and appraisal business. Working closely with clients as consignor representative, Steve has a wealth of general antiques knowledge with a specialty in silver. Steve demonstrates his commitment to customer service and sharing of knowledge by conducting well over fifty lectures and appraisal clinics all over Ohio each year.
About the Society
The Delaware County Historical Society is a non-profit organization funded by donations and fueled by a marvelous corps of dedicated volunteers. We collect, conserve, research, and catalogue artifacts of historical import. We obtain, maintain, and make available to the community historic places including The Barn at Stratford. We support county school history teachers and students. We prepare and present programs (like this one) and exhibits year-round to educate and promote Delaware County History.