It was our great fortune to meet John Brake as he was photographing the historic Nash House on East Williams Street in Delaware.  John has an amazing talent for using light and dark to make dramatic photographs of places that we see every day.
John has a special interest in the historic places around Delaware County. Many of these places are vacant and in various states of decay.  The Delaware County Historical Society is pleased to be able to preserve some fine examples of those historic places and make them available to the community.  In addition to the Nash House which operates as a museum, we operate The Barn at Stratford, an 1840s barn between US 23 and Stratford Road, as an event venue and the Meeker House Museum, next to the barn, an 1820s home of Forrest Meeker and his family.  John graciously agreed to photograph those building as well.
About John Brake
After ser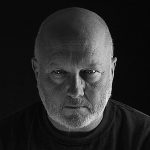 ving in the US Navy, John moved to Los Angeles Ca. and worked maintaining charter yachts. After several years he began painting homes including those belonging to movie and rock stars. John has been a professional painter for over 20 years. John Brake is the owner of GPG Painting in Delaware Ohio.  John travels on his motorcycle and captures images of the places and events he sees.  You can see more of John's photography at his Flickr site.