Come to the screening of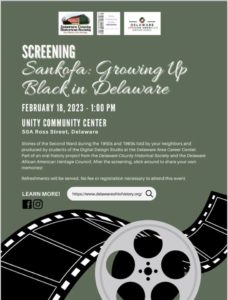 Sankofa: Growing Up Black in Delaware
FEBRUARY I8, 2023 – 1:00 PM at Unity Community Center, Delaware OH

Stories of the Second Ward during the 1950s and 1960s told by your neighbors and produced by students oi the Digital Design Studio at the Delaware Area Career Center.  Part of an oral history project from the Delaware County Historical Society and the Delaware African American Heritage Council. After the screening, stick around to share your own memories!
"Sankofa" is an African principle that we need to look back to insure a successful future. (e.g. History)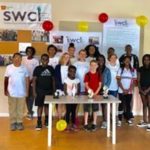 UNITY COMMUNITY CENTER
50A Ross Street
Delaware, OH 43015-2523
Refreshments will be served – No fee or registration necessary to attend this event.
In partnership with Delaware County Historical Society and Delaware African American Heritage, this event shares the elders' stories and encourage others to add to the oral history archive about growing up Black in Delaware in the 1950 and 1960s.    The screening showcases works of the Digital Design project by DACC students.