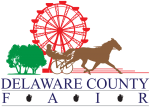 It's Delaware County Fair time again and the Delaware County Historical Society has a great new booth exhibit:
Delaware County Railroad History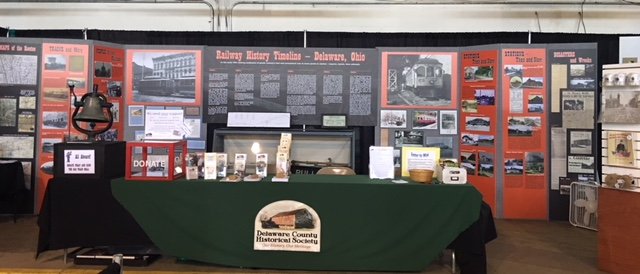 The exhibit includes rare photographs of trains, CD&M cars, disaster photos, maps of routes and the people of the railroad. We have railroad artifacts available for viewing and a real  engine bell used on an engine.
Talk to our volunteers about your Delaware history or what you would like to know. We love to listen and learn about Delawarian's experiences. We love to help people research.
Free Prize Drawing
We will also have a drawing to give away a prize pack worth $70 including:
a History of Delaware County book
a DVD of Delaware History
a DCHS ceramic mug & DCHS coasters
and a Delaware County Historical Society 1 year membership .
Don't forget to put in a free entry for this year's prize package. It's well worth the price.
Don't forget the DCHS

History Challenge
The DCHS History Challenge is to gather the Secret Codes from history places and activities to qualify for a chance to get: 1-year DCHS membership,plus lunch at Delaware's Historic The Hamburger Inn with President Emeritus Brent Carson.  Don't forget to get the Secret Code from our Fair Booth.  To learn more about the History Challenge and download an entry form click here.
Our New Location
Come visit us in the Coliseum building, on the south wall near the front doors.
About the Fair
The Delaware County Fair has a long tradition of not only providing an enjoyable place for people to exchange ideas, demonstrate skills and exhibit products, but is also a great source for recreation, entertainment, visiting and learning.
The Delaware County Fair hosts many outstanding events including 5 days of the best in harness racing capped off by the prestigious Little Brown Jug on Thursday as well as displays from 100's of exhibitors and a full schedule of motor sports events in the motor sports complex ranging from demolition derbies to school bus racing.
The Delaware County fair is a tradition and an event that you certainly don't want to miss!
See you at the Delaware County Fair!
740-369-3831
CRYDER HISTORICAL CENTER
RESEARCH LIBRARY
NASH HOUSE MUSEUM
157 East William Street, Delaware
MEEKER HOMESTEAD MUSEUM
THE BARN AT STRATFORD
2690 Stratford Road, Delaware