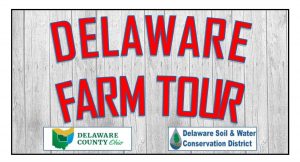 The Delaware Soil and Water Conservation District
will hold our first-ever
Delaware County Farm Tour
August 18th, from 12:30pm to 4:30pm
The free tour will be self-guided, "at your own pace," and consists of 5 different stops along a 32-mile route throughout Delaware County. Each stop has unique conservation practices and activities to showcase. Families can choose to visit any or all the stops. Additional fun and educational opportunities will be available at each stop including food samples, pedal tractor races, making fresh floral arrangements and grapevine wreaths, and petting baby farm animals. The tour includes a special viewing of the John R. Doutt upground reservoir, owned and managed by the city of Columbus.
A perfect complement to the tour is the evening Benefit in the Barn, dinner and concert. Tickets can be purchased by clicking here.
Families are welcome!
Stops on the Delaware County Farm Tour include: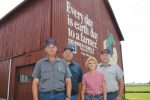 Hardscrabble Farms has been in the Skinner family for 106 years.  At this stop you can see baby farm animals, a variety of large farm equipment, and the ways technology has been incorporated into today's agriculture. Have your picture taken as you sit in the driver's seat of a combine.  Gary, Darrin, and Brian Skinner, along with their families, will share how they have relied on conservation to keep the farm productive in changing times.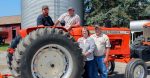 Sherman Family Farm is one of Delaware County's Century Farms under the Ohio Historic Farm Family Program.  The Shermans' farm 700 acres, raising corn, soybeans, wheat, and hay along with a cow-calf operation.  One of the farms has been accepted into the Local Agricultural Easement Purchase Program and will stay in agriculture into perpetuity.  The Shermans have been long time collectors of Allis Chalmers equipment and will have many antiques on display.  This will also be a pedal tractor pull stop for kids!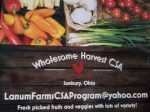 Wholesome Harvest and Lanum Farms CSA is run by young, beginning farmers, Heather and David Gilson.  They installed a seasonal high tunnel, also known as a hoop house, to grow produce for their Community Supported Agricultural customers and for local farm markets.   Honey and maple syrup are also produced by the Gilsons.  Samples of their products will be available for tasting.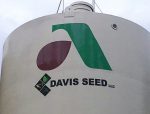 Bret Davis Seeds LLC an Asgrow, Dekalb, and Ebberts seed dealer serving local farmers with commodity seed as well as cover crop mixes.  Tri Township Fire Department will be on hand to demonstrate a grain bin rescue tube, a valuable tool used in the instance a person gets trapped by the shifting grain inside a storage facility.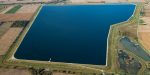 John R. Doutt Upground Reservoir is a 850 acre impoundment for the city of Columbus.  A walk to the top of the dam will provide a great view of the lake as well as all of the drainage improvements needed for the surrounding agricultural land.  City staff will be on hand to explain the complex planning and implementation required to bring this huge project to fruition.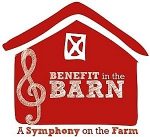 Rodman Farms is hosting – The 2018 Benefit in the Barn, featuring a catered dinner and the Columbus Symphony Orchestra. Doors open at 5:00pm, with dinner at 6pm and concert at 7pm. Pre-paid tickets are required for this stop. Get your tickets here.
Download a Map of the tour Delaware County Farm Tour flyer