The Delaware County Historical Society each year publishes an Annual Report to our members, contributors, and the community.  The Annual Report presents highlights of the Society's activities in pursuit of its mission:
To promote and sustain interest in the history of Delaware County, Ohio, through historic preservation and education.
The 2022-2023 Annual Report includes:
Letter From the President
Our Board of Trustees & Staff
2022-2023 Financial Summary
Overview of who we are and what we do – "We Bring History to Life"

Community Visibility

We collect and preserve
Our Volunteers
We generate Interest in our history

We Educate
Members, Life Members, Business/Organization Members
Thank You to Our Grantors, Sponsors, and Donors

Programs and Events
Our Core Mission

From the Executive Director
You may obtain a copy of the latest Annual Report at the Society's offices
or you may download it by clicking on this cover image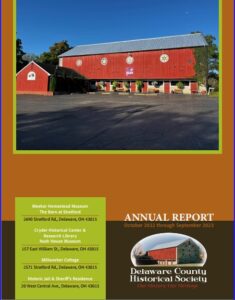 The Delaware County Historical Society is a nonprofit institution. It receives monetary support from the community for its facilities and collections and for its educational and historic preservation efforts. It is through the financial gifts of our members, the Delaware County community, and philanthropic organizations that the society can continue to preserve and promote our rich Delaware County heritage.