Welcome!  We're so glad that you're interested in Delaware County History. We hope you can find a way to get involved!
Our Vision
:  A community that values its history as it plans its future.
Our Mission: To be a trusted resource to connect the diverse stories and fabric of the past to the people of today and tomorrow through preservation, education, and engagement.
Our Core Values:
We delight in discovery.  Curiosity about the past illuminates our present and helps us prepare to navigate tomorrow.
We welcome you.  We seek to provide hospitable spaces for all to gather, engage, learn, and build community. We embrace a diversity of perspectives in our storytelling and within our organization.
We get things done. We are committed to our communities and tackle the responsibility of preserving and interpreting our unfolding history with energy.
We collaborate. We are enthusiastically committed to the cultural and geographic communities that were and are in Delaware County and embrace working alongside them to preserve, understand, and share the region's historic people, events, and objects.
We are stewards.  We promote preservation of places, artifacts, stories, and memories.
We recognize that the history of the County is the history of the various people who settled in, live in and work in Delaware County and communities who fostered the growth of the county. To accurately bring all our histories to the public, the Delaware County Historical Society embraces, recruits, and welcomes as board members, as volunteers, as members and as the viewing public all who live, work, or have a history in Delaware County!
The Delaware County Historical Society is a nonprofit 501 3c institution.  It receives monetary support from the community for its facilities and collections and for its educational and historic preservation efforts. The facilities and collections are among the most valuable assets of the Delaware County community. The Society holds and utilizes these unique structures and treasures for the education and enjoyment of the public.
The Society serves and includes all of Delaware County Ohio.  The Delaware County Historical Society's mission is to preserve the history of and educate about the history of Delaware County, Ohio. The Delaware County Historical Society welcomes all regardless of race, religion or sexual persuasion.
Click HERE to view our current Annual Report
Click
HERE
to learn about our Leadership Team.
Q –   What does the Society do?
A – Our mission is to promote and sustain interest in the history of Delaware County, Ohio through historical preservation and education. We do this in a number of ways including programs and tours, collecting and displaying artifacts in our two museums, collecting oral history, researching Delaware County history, preserving items and printed material, and educational programs and material for students.
Q – Is DCHS the agency that makes recommendations to Delaware City Council about changes in the buildings in downtown Delaware.
A – No. That is called the Historical Preservation Commission which operates as part of the city's Planning and Development Department. City staff and the Historic Preservation Commission implement Architectural standards by reviewing all proposed exterior work and new construction within the Downtown Historic District.
Q – Is the Society only for Delaware city?
A- No. The Delaware County Historical Society is the organization which collects and preserves all county history.
Q – How is the Society funded?
A- We are funded by membership fees, donations, event rentals, and project related grants. We do not receive any federal funds.  As a non-profit, all revenue is funneled back into the organization.
Q-  How is the Society staffed?
A –  We have a full time executive director, and a full time sales and event manager who handles the rental space at the Barn at Stratford. We have many unpaid staff members (volunteers) who assist in carrying out the mission of the organization.
Q-  Who runs the Society?
A –  The organization is managed by a fifteen member board
Q – How long has the Society been around?
A – It was founded in 1947
Q – How are you going to pay for the jail?
A – We will be soliciting grants, donations from the community, renting out office space, and holding fundraisers and other revenue generating activities.
Q – Does the Society host private events at the Barn in Stratford?
A – Yes – this ensures our self-sustainability. Go here for more information (Link here )
Q – What kinds of things are in the museums?
A  – Our Nash House Museum, located at 157 East William Street, has many Victorian Era artifacts. The adjacent Research Library has many displays including White House Easter Eggs, military items, American Indian artifacts, and a scrap of fabric said to contain Abraham Lincoln's blood. The Meeker Homestead Museum, located at 2690 Stratford Road, contains pre-Civil War artifacts, including a grandfather clock dating to 1758, a Revolutionary War-era foot warmer, and exhibits on American Indians, The Delaware Chair Company, and spinning and weaving. Exhibits in the Meeker Homestead Museum change several times a year. The Meeker House was said to have been in the Underground Railroad.
Q – Do you charge admission?
A – No, however we gratefully accept donations.
Q – How do I make a $ donation?
A – To donate, click the "Donate" on the top menu, when the Donate Page appears, click "Make a $ Donation" , Then fill-in the Donation Form.
Q – When are the museums open?
A – Currently we are open by appointment but that may change in the near future.
Appointments may be made to visit the Meeker Homestead Museum by emailing meekermuseum@delawareohiohistory.org.
Appointments to visit the Nash House Museum or the Research Library may be made by emailing librarian@delawareohiohistory.org.
Q – What kind of artifacts do you collect?
A – We take donations of historical items that have connections with Delaware County.  History is happening all the time! If you have something you think will tell the story of Delaware County to future generations, consider donating it.
Q – Can I get my item back once its donated?
A – No, if we accept the donation, the item becomes the property of the Historical Society.
Q – How do I become involved in the Society?
A – There are many ways to get involved with the Society. We are always looking for volunteers, donors, researchers, docents and members
Becoming a member is a great first step, Click here for the Membership Page.
Q – What volunteer positions are available?
A – Currently we are looking for Communication Committee volunteers, an office volunteer, gardening volunteers, docents, writers, outreach volunteers, fundraisers, IT support, and more. Flexible hours and training is provided. For more information about these and other volunteer opportunities, please contact volunteer@delawareohiohistory.org.
Click
HERE
to view our Email Contact Guide of our facilities
The Delaware County Historical Society gratefully acknowledges the support of our members, volunteers, the Delaware County community and government. We also gratefully acknowledge the support of the organizations who sponsor and provide resources to sustain our work.  You will find many acknowledgements printed, and online on the page where the support was directed.  Here we acknowledge support that was not so associated.

Development of new Mission, Vision and Values statements were made possible through a 2022 Capacity Building grant from the Ohio Arts Council.   We also thank the Ohio Arts Council for their ArtStart grant funding of the restoration and conservation of our 1791 fraktur."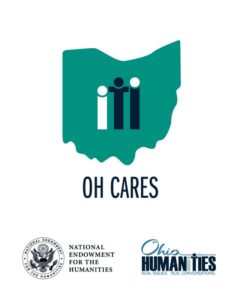 Support has been provided by Ohio Humanities, the National Endowment for the Humanities, and the federal American Rescue Plan Act of 2021.