Welcome: Educators and Parents
Delaware County Historical Society Curriculum Support Webpages
The Curriculum Support Committee of the DCHS, composed of retired educators, was established to create programs based on the local history of Delaware County for our county schools and other educational settings. Our programs offer a variety of formats from in-person to online, often with accompanying standards-based lesson ideas, handouts and extension activities.
On the following tabs in the website, visitors will find:
This "clickable" list gives visitors the title of our programs, descriptions, learning standards, grade levels and how to schedule.
School isn't always inside the classroom, so our group of educators put together videos, slide shows, links to many age-appropriate historical activities to support learning about Delaware County and much more. These resources include many lesson plans, rubrics, and reading .
In order to keep our facilities open and operating, we have a suggested fee structure to help maintain our program offerings.
Read a little about how the Curriculum Committee got started and continues educational outreach today.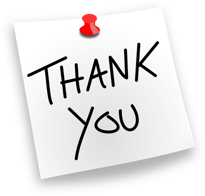 The Curriculum Committee has received a helping hand from many organizations around the county. This help often comes in the form of a financial contribution to support scholarships or needed items to make our program outreach even greater. Take a look at some of our benefactors and give them a thank you next time you see them in our community.
The Delaware County Historical Society offers numerous programs for educators, students, seniors, and organizations. All programs are guided by Ohio Department of Education Social Studies learning standards and are written by current and retired educators. The programs below are organized by grade level. We now offer our programs in-person, online, or both.
All programs have been revised to reflect the 2018 State of Ohio Learning Standards for Social Studies Content. Click the
Program Title

below to view the standards addressed by that program by grade and more information.

Click the Program Title to view the full program information:


Teacher Tote Bag Program – 3rd grade
What is An Artifact? – 1st, 2nd grades
How and Why a Town Begins – 1st – 11th grades
Delaware Then and Now Artifact Cart – 1st, 2nd, 3rd grades
American Indian Artifact Cart – 3rd – 11th grades
Early Schools of Delaware County – 3rd – 11th grades
1800s Ohio Schools – 1st, 2nd, 3rd, 4th, 5th grades
Walking Tour of Early Delaware – 3rd grade
From Slavery To Freedom – 3rd – 8th grade
Tour of the Nash House – 3rd grade
Scavenger Hunt in the Cryder Research Center – 3rd grade
Walking Tour on Winter Street – 3rd grade
The Underground Railroad Experience – 4th, 5th, 8th grades
Voices of the Underground Railroad Readers' Theater – 5th, 8th grades
Early Settlers and American Indians of Delaware County – 4th, 5th, 7th, 8th grades
Cultural Communities: Early Settlers & American Indians 1770-1850 – 5th thru 11th grades
The Curriculum Committee of the DCHS recognized the need for offering virtual activities for students, teachers, parents, home school programs and many other educational situations.
Our Virtual Lear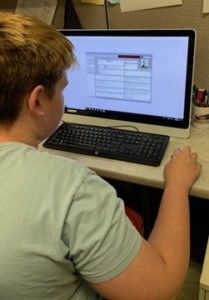 ning pages offer the history of Delaware County that include ideas for walks, bike rides, PowerPoints, projects, handouts, video links, lesson ideas and more.
On our Early Settlers page we have included 8 interdisciplinary history lessons complete with teacher and student self-assessments.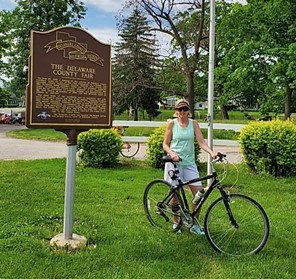 Activities to extend the virtual learning experience are found on the Activities of the Past and Local History Pages. Explore and discover our county's history and enjoy these many activities. Useful photographs, maps, information, reading recommendations, video and other handouts are available on these pages and can be printed out at home.
Click HERE to learn more on Delaware County, Ohio, Virtual History's website!
The Delaware County Historical Society is a non-profit organization funded by donations and memberships. In order to keep our facilities such as the Nash House, The Meeker Homestead, and the Cryder Research Center open and programs available, we would appreciate any financial contribution your school, PTO, or organization can provide.
For the Underground Railroad Experience and the Early Settlers and American Indians of Delaware County programs we ask for $5.00 per student. For all other programs we suggest a fee or donation of $50.00 for small groups(up to 50 people), or $100.00 for larger groups.
These fees are negotiable so that all children and interested adult groups can receive the benefit of our programs.
The Curriculum Support Committee of the Delaware County Historical Society organized in 2012 under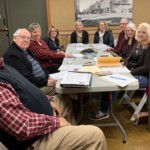 the leadership of Brent Carson, a lifelong Delaware resident and former social studies teacher for Delaware City Schools. Brent recruited retired teachers from local school districts to start this committee. Once this group of teachers got together and saw the wealth of materials at the Historical Society, they recognized its huge programing potential and began to develop programs to share with teachers and students.
The Co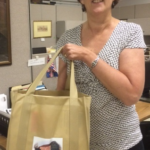 mmittee started by created a traveling tote bag program based on the Ohio Learning Standards for Social Studies for third grade, as local history is emphasized at this grade level. A wonderful grant from the Williams Street Church Foundation allowed this program to grow. In 2016, the tote bag program was recognized with an Outstanding Achievement Award from the Ohio History Alliance.
The next project developed using the rich Underground Railroad history in the County. Since then, more programming continues with research projects looking into the American Indians and early settlers to this area, the hi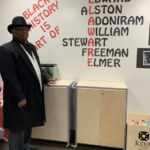 story of Africa Road and Black Americans in Delaware County, artifact carts to the schools, tours of Downtown Delaware, and the tote bags keep evolving to add more topics.
We continue to add members to the committee as interest increases in the community. In 2021, we have both retired and current classroom teachers working on our projects. Our program offerings continue to grow and evolve as more ideas com e to our attention from teachers, parents and community members.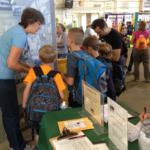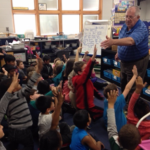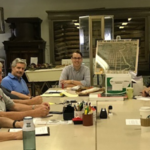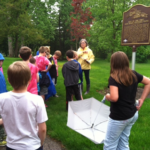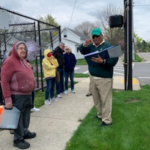 The Curriculum Support Committee recognizes the following organizations for the donations and financial support for our projects for local schools and organizations.
As a non-profit organization, the Delaware County Historical Society relies on grants, donations, and memberships to fund our facilities and programs. We could not move forward without the generous support of these local organizations.
We salute and thank you!
AEP (American Electric Power)
The Charles and Betty Sheets Family Fund,through the Delaware County Foundation
Delaware City Schools
Delaware County Foundation
Delaware County Commissioners
Delaware Kiwanis
Delaware Rotary International
Ohio Arts Council
William Street Church Foundation