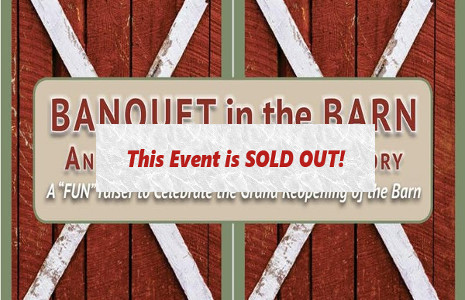 Banquet in the Barn
an Evening of Living History is a "Fun" Raiser to celebrate
the Grand Reopening of the 1840s Barn at Stratford.
Date and Time
Friday
June 28, 2019
5:30 PM – 8:00 PM EDT
Location
The Barn at Stratford
2690 Stratford Road
Delaware Ohio
Come join us at the Banquet in the Barn as we celebrate the completion of the Phase 1 restoration of our 171-year old barn. We are excited to show off the amazing work that has been accomplished by a team of skilled timber framers dedicated to the history and tradition of barn renovation. How fitting it is that the Ohio Legislature has declared the barn as the official state architectural structure!
Enjoy a casual evening with emcee Jeff Robinson,
musician Andrew Shaw, and auctioneer Dan Boysel!

Your ticket includes:
Meeker Homestead Museum guided tours 5 – 5:30 p.m.
Appetizers from 5:30 – 6:15 p.m.
Buffet Dinner at 6:30 p.m.
Live Piano Music by Andrew Shaw
Cash Bar – all evening
Live Auction – Dan Boysel, auctioneer
Historic Reenactors
A presentation of the Barn's own story
Meet with the barn specialists and timber framers
This event is proudly sponsored by:
[smls id="6489″]