The Delaware County Historical Society will conduct walks through our history and people on an
4th Annual Oak Grove Cemetery Walk
Sunday, Oct. 11, 2020
Starting at 1:00pm, Last Tour 3:20pm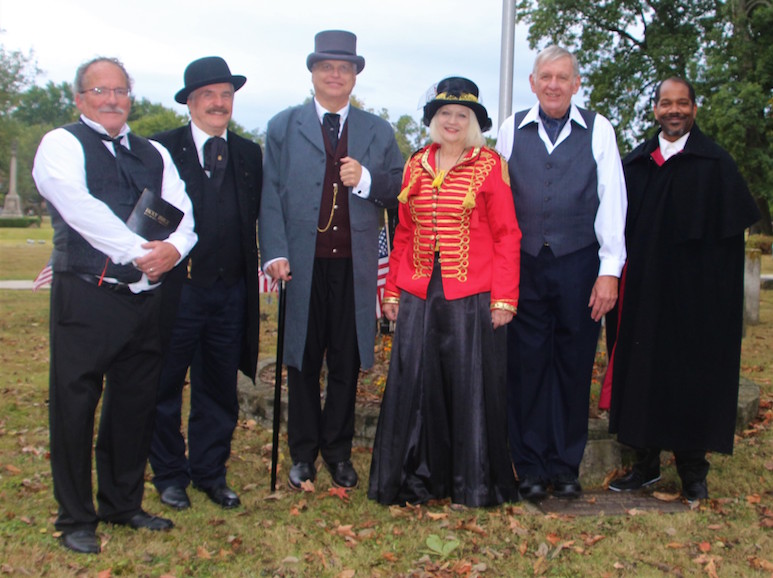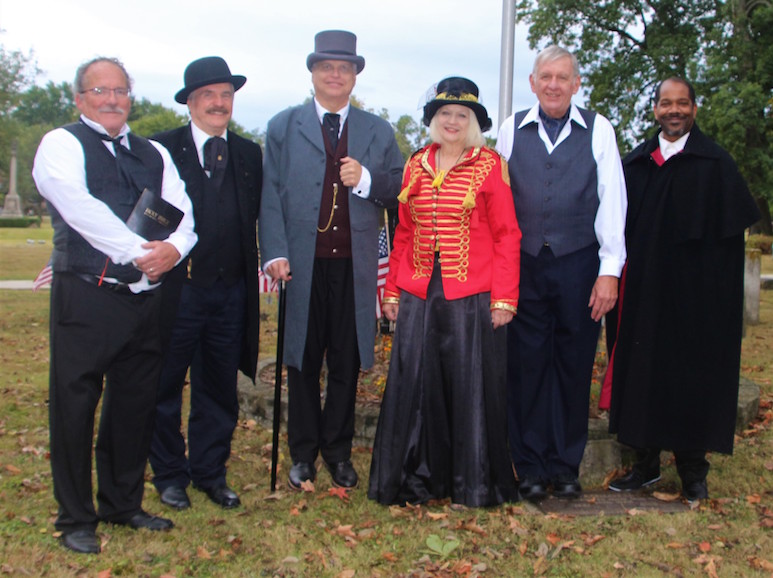 Meet the citizens from Delaware's past.  Costumed interpreters will share their stories at tombstones throughout the cemetery.
You won't want to miss this completely NEW tour.  New sections of the cemetery and the people portrayed are ALL NEW folks. 
Your experience will start at the Soldier's Circle. There you learn about the history of those patriots while you wait for your tour group to assemble and depart. 
This year's tour will feature a completely new list of historic figures from Delaware including:
Allie Matthews (12/15/1869 – 4/10/1938), wife of the William Matthews – the last town Marshal and first chief of Police for the City of Delaware; portrayed by Darcy Kaplan.
Robert G. Lybrand (8/29/1842 – 2/1/1919), owner, business manager, and president of the Delaware Chair Company; portrayed by Ken Barnett.
Harriet Calista (Clark) McCabe (5/16/1827 – 9/25/1919), activist and author of the constitution of the Woman's Christian Temperance Union of Ohio. She also edited publications for Methodist Missions in the United States; portrayed by Sue Bauer.
Hosea Williams (8/1792 – 2/12/1876), entrepreneur and businessman in early Delaware; portrayed by Benny Shoults.
William Little (12/24/1779 – 11/30/1848), a saddler by trade but switched to mercantile business in a store on the southwest corner of Winter and Sandusky Streets. He owned a large tract of land at the end of Winter Street where OWU"s Monnett Hall was later built and he ran the 12 acre Blue Limestone quarry. He invested in property and his children married well; portrayed by Brent Carson.
Dr. Ralph Hills (12/13/1810 – 10/9/1879), a renaissance man, he followed his father and uncle into the medical profession and psychiatric hospital administration; portrayed by Steve Shaw.
George Frederick Hoffman (3/12/1826 – 1/24/1903) has many stories to share about his 1849 travel from Bavaria to Pittsburgh and ending with a bakery and general store in Delaware, Ohio; portrayed by Mike Hoffman.
Ruth Emma Murray Dodd (3/30/1856 – 12/20/1903), after celebrating the holidays in Chicago with family, she and her daughter and other family members went to the new Iroquois Theater to see Mr. Bluebeard, starring Eddie Foy. The evening ended disastrously; portrayed by Nancy Fleming.
Henry C. Clay (7/4/1842 – 9/11/1924), a Civil War veteran, a respected member of the Delaware community, and a Baptist Minister, who married many Delaware couples between the years of 1876 and 1898; Portrayed by Tracey Sumner Jr.
Two members of the Melching family – mother Eva and daughter Nellie who lost their lives in the 1913 flood. Together, they will tell their story and of the other flood survivors in their family; portrayed by Laurie Schaefer & Haidyn Spohn.
Tours will be in groups limited to 10. First tour will start at 1 pm. The last tour starts at 3:20 pm. Tours last approximately 1 1/2 hours.
You should be at the Soldiers Circle starting point 10 minutes prior to the time your tour begins.
Parking will be available. Follow signs and guides from Sandusky Street gate.
All participants must wear a face covering. Please wear proper outdoor attire and comfortable shoes (a considerable amount of walking, some over uneven ground).  No handicapped accessibility.
For a map and directions to Oak Grove Cemetery, click here.
This event is a Ticketed Event
$20 Adults |$10 Adult Society Members|$5 Children (ages 6-17)
There may be a limited number of walk-ins allowed, at an additional charge of $5 per person.
Purchase Tickets and schedule your tour online
at Eventbrite SOLD OUT
or call 740-369-3831 Ext. 3
The Society offers programs and events throughout the year, check out this years schedule.
For more information, email Programs@DelawareOhioHistory.org
Oak Grove Cemetery
Oak Grove Cemetery is located at 334 South Sandusky Street in the City of Delaware. Oak Grove was established in 1851 and is the largest cemetery in Delaware County, encompassing about 80 acres and approximately 22,000 interments, including those in the adjoining St. Mary Cemetery. The City of Delaware began operating Oak Grove Cemetery in 2012.
---
CRYDER HISTORICAL CENTER
RESEARCH LIBRARY
NASH HOUSE MUSEUM
157 East William Street, Delaware
MEEKER HOMESTEAD MUSEUM
THE BARN AT STRATFORD
2690 Stratford Road, Delaware