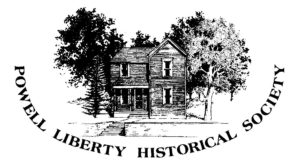 The Powell Liberty Historical Society is happy to announce that our programs and events are returning after a long hiatus due to the COVID 19 pandemic.
Our next event will be an added Downtown Powell Walking Tour
Walking Tour of Downtown Powell, lead by Sherry Carmichael, a longtime Powell resident. Highlighted will be many historic buildings and interesting anecdotes. This annual event is always educational, inspirational, and an enjoyable way to spend a beautiful summer evening. Topping off the event will be a return to the Martin Perry house for refreshments in the side yard.
Meet at the Martin Perry House. We will leave promptly at 7:00 p.m.
103 E. Olentangy Street, located on Powell Road (Rt. 750) at Grace Drive
Parking is available in a small lot west of the house, behind the businesses next door, and across the street in the large lot at the NE corner of E. Olentangy Street and Grace Drive.
Special Note
Out of respect for each other, and to comply with current pandemic restrictions, as well as the PLHS Board condition, masks, and social distancing will be required.
Reservations are required. 
You can make reservations:
online at https://powellhistory.org/registrations/index/109,
by emailing info@powellhistory.org ,
or by calling 614-848-6210. 
Deadline – Saturday, August 8, 2020.  Limit 15 participants.
The Powell Liberty Historical Society is a member of the Delaware County History Network, a collaboration of Delaware County history organizations. Learn more about the network Delaware County History Societies & Libraries