The Ohio History Connection has awarded the Delaware County Historical Society (DCHS) a $6,000 competitive grant to replace old pressboard shelves with archival-quality metal shelving in the Cryder Historical Research Library, 157 E. William St., Delaware.
The DCHS was one of 10 historical organizations awarded a grant.
Donna Meyer, Delaware County Historical Society executive director, said due to the weight of the research volumes and the amount of use they receive, the current shelving is failing. She said many of the volumes have been moved to open space on other shelves and some have been stacked on the floor.
"When a student or someone comes in to do research, many times we point to the book on the bottom of the stack," she said.
Meyer added, the volumes provide historical information on the people who once lived in Delaware County, and that information is often used for exhibits or for reenactments for children or adult programs. She said it makes history much more interesting than just historical dates.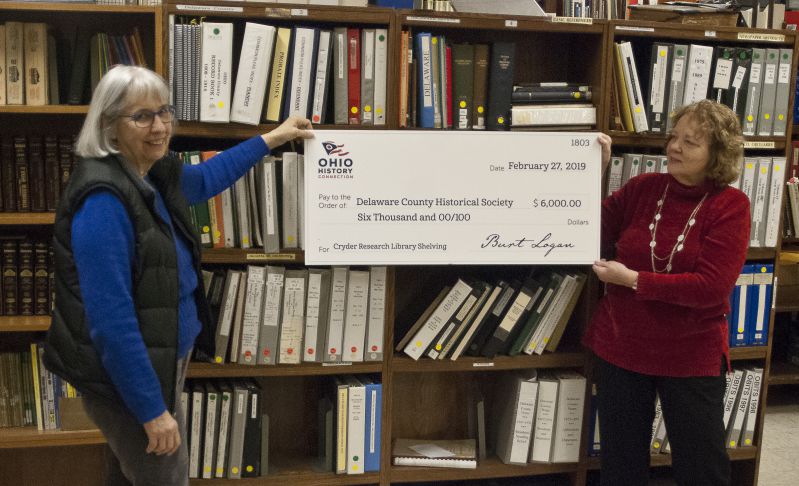 According to Susan Logan, a Delaware County Historical Society volunteer and librarian, the volumes contain information about Delaware County and the surrounding counties. In her application to The Ohio History Connection, she describes the content of the volumes as research reports by DCHS volunteers, old city directories from 1859-2000, township histories, filings from probate and common pleas court, military documents, and high school and Ohio Wesleyan University yearbooks.
"Our collection provides a window into the past, bringing people into close contact with these unique, often profoundly personal documents giving viewers a very real sense of what it was like to be alive during a long-past era," Logan states in the application.
"The audience served by the completion of this project includes roughly 200 adults and students who use the Cryder Library materials … Our student contacts have increased from 45 students in 2013 to 4,708 in 2018." The Ohio History Fund creates grants to help support local history and preservation-related projects in communities throughout Ohio. It's funded by Ohio taxpayers who select "Ohio History Fund" to donate to on their state income tax returns.
"The Ohio History Fund allows us to preserve and share Ohio stories by supporting local history projects all over the state," Ohio History Connection Executive Director and CEO Burt Logan states in a press release. "Local history helps us understand where we came from and gives us a sense of identity and place, inspiring pride in our communities."

The Ohio History Connection, formerly the Ohio Historical Society, is a statewide history organization with the mission to spark discovery of Ohio's stories. As a 501(c)(3) nonprofit organization chartered in 1885, the Ohio History Connection carries out history services for Ohio and its citizens focused on preserving and sharing the state's history. This includes housing the state historic preservation office, the official state archives, local history office, and managing more than 50 historic sites and museums across Ohio.
Now in its seventh year, the Ohio History Fund is a competitive matching grants program that is one of six "tax check-off" funds found on Ohio's income tax forms. It's funded entirely through Ohio taxpayers' voluntary contributions. The Ohio History Connection awarded $90,000 in grants this year. Since the program started in 2012, the Ohio History Fund has provided 73 grants totaling $688,000 to history organizations all across the state.