The "Big Ear" was a Radio Telescope that listened for radio signals from space.

The Ohio State University Radio Observatory was operated on the grounds of Ohio Wesleyan Univerity's The Perkins Observatory in Delaware Ohio from 1963 to 1998.  The radio observatory was part of OSU's Search for Extraterrestrial Intelligence (SETI) project.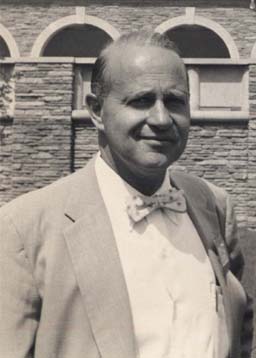 Dr. John D. Kraus (1910–2004)
Director of the Ohio State University Radio Observatory (OSURO) based in Columbus.
He designed and directed the construction of the football-field-sized "Big Ear" in Delaware Ohio. 
Construction of the Big Ear began in 1956 and was completed in 1961. It was turned on for the first time in 1963.
The radio telescope discovered some of the most distant known objects at the edge of the universe and conducted sky surveys mapping over 19,000 radio sources (over half of which had never been previously detected).
The Big Ear gets a Wow!
The Wow! signal was a strong radio signal received on August 15, 1977. The 72-second signal appeared to come from the direction of the constellation Sagittarius and bore the expected hallmarks of extraterrestrial origin.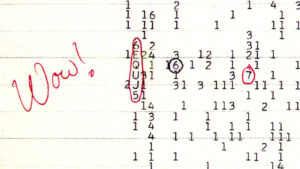 Astronomer Jerry R. Ehman discovered the anomaly from the recorded data. He was so impressed by the result that he circled the reading and wrote the comment Wow! on its side.
The signal has not been detected since, and the exact origin of the signal has yet to be confirmed.
The End of The Big Ear
The last pieces of Ohio's only radio telescope came crashing down Thursday.
Nicknamed Big Ear, the telescope was the world's first to search for extraterrestrial radio signals. As big as three football fields, it has been off U.S. 23S near the Methodist Theological School in Ohio since 1963.
The telescope was on property owned by Green Highlands Ltd., and was leased by Ohio State University. That lease expired Dec. 31 and the land was sold to New Green Highlands Development Ltd.
Much to the chagrin of Big Ear enthusiasts, that cleared the way for dismantling the telescope and putting in a 381-lot development and a nine-hole golf course that is an expansion of the Dornoch Golf Club, formerly the Delaware Golf Club.
Learn more
Big Ear Memorial Website
The North American Astrophysical Observatory (NAAPO) has created a website with extensive technical information about Delaware's "Big Ear"
History in Your Own Backyard
History in Your Own Backyard produce videos of historical places that they find on their travels. Their website is listed on our Historical Websites page. View a video history about The "Big Ear"
on History in Your Own Backyard
---
CRYDER HISTORICAL CENTER
RESEARCH LIBRARY
NASH HOUSE MUSEUM
157 East William Street, Delaware
MEEKER HOMESTEAD MUSEUM
THE BARN AT STRATFORD
2690 Stratford Road, Delaware