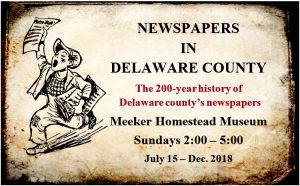 The Delaware County Historical Society
is proud to present a new exhibit
Newspapers in Delaware County
at our Meeker Homestead Museum
Sundays from 2:00pm until 5:00pm
July 15 – Dec 23, 2018

The inspiration for the exhibit came from this year being the 200th year of the Delaware Gazette, which started in 1818.
  Step back in time through the graphic exhibit that spans from the early 1800's through present day.  See for yourself how many things have changed, yet many things had stayed the same.
Headlines that captured the latest Local, National and International news throughout the last two centuries
Newspaper ads that will give you insight into what life was like in the early years of Delaware
The actual Newspaper Clippings that told of Lee's surrender to Grant
Gazette Photographs from the last decades of the 1900's
The exhibit will also include:
a Timeline of the Delaware Gazette beginning in 1818 through the present day
An 1821 Delaware Patron & Franklin Chronicle printed in Delaware by E. Griswold
The history of the Thomson family who owned and operated the Gazette for over 170 years
The history of other Delaware County community newspapers: Sunbury, Ashley, Ostrander and the Ohio Wesleyan University newspaper
There will be lots to see in the exhibit, but we are also interested in our visitor's recollections and thoughts:
What role did the newspapers play in your life?
How do you get your news today?
What do you think is the future of how News is presented?
The Cryder Research Library of The Delaware County Historical Society
The Society is dedicated to preserving the history of Delaware County.  A large part of this work is encouraging people and businesses to donate materials and objects connected to Delaware County.  Our dedicated volunteers donate many hundreds of hours to review, research, photograph, catalogue, protectively pack and store those donations each year.  Our collections include The Archive of Delaware Gazette newspapers and photographic negatives, as well as archives of other Delaware County newspapers.  These resources were used to create the exhibit pieces in the Newspapers in Delaware County Exhibit.  We encourage you to visit the Cryder Research Library and see our work first hand.  We would love to have you join our volunteers and donors in supporting our work.
For more information
Email info@DelawareOhioHistory.org  or call 740-369-3831, ext. 3.

740-369-3831
CRYDER HISTORICAL CENTER
RESEARCH LIBRARY
NASH HOUSE MUSEUM
157 East William Street, Delaware
MEEKER HOMESTEAD MUSEUM
THE BARN AT STRATFORD
2690 Stratford Road, Delaware