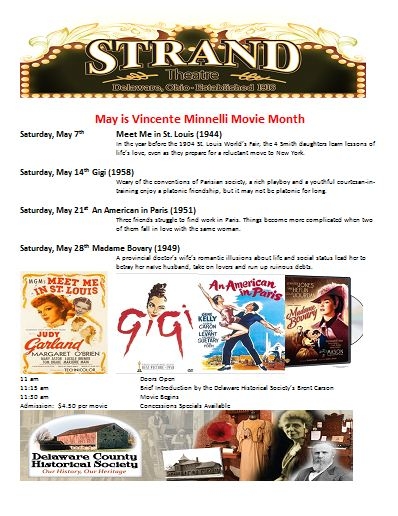 The Delaware Connection
Vincente Minnelli was an American stage and film director who is best known for sparkling musicals including Gigi and An American in Paris. He settled in Delaware, Ohio and attended fourth grade through high school in Delaware and then left town after graduation. Learn more about Vincent Minnelli's connection to Delaware at Our Shared History.
Vincente Minnelli Movie Month
The month-long celebration presents four of Minnelli's best-loved movies. Delaware County Historical Society's Brent Carson will precede each movie with a brief introduction. Join us at The Strand Theatre on Saturday mornings this May at 11:30 (doors open at 11):
May 7 – Minnelli's Meet Me in St. Louis (1944)
May 14 – Minnelli's Gigi (1958)
May 21 – Minnelli's An American in Paris (1951)
May 28 – Minnelli's Madame Bovary (1949)
After the Movie
After you have enjoyed one of Vincente Minnelli's films, you can spend some time enjoying Delaware Ohio. If you go to 311 N. Washington Street, you will find the house where Vincente Minnelli once spent winters with his grandparents. This house was the inspiration for the family home featured in the musical Meet me in St. Louis.