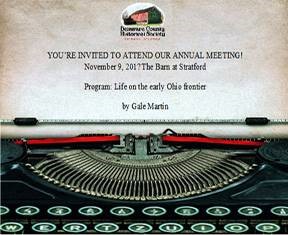 The Delaware County Historical Society will hold its 2016 Annual Meeting on November 9 at 7:00pm. The meeting will be held at The Barn at Stratford, the Society's historic event venue.

After last year's captivating Annual Meeting program "The Discovery of Fort Morrow", the Society is excited to offer a speaker acquainted with early life near Fort Morrow and the War of 1812.

Program: Life on the early Ohio frontier

Featuring guest speaker Rebecca Drake
(Gale Martin – Director of the Marion County Historical Society)

Life on the early Ohio frontier and a glimpse into the effects of the War of 1812 on the settlers. She will be talking about her home near Ft. Morrow and Native American encounters as well as her husband's service in the war including his infamous military action which became known as Drake's Folly.

Following the program, the election of Board trustees will be held. Society Members can participate in the election.

2690 Stratford Road

Delaware, Ohio 43015

The annual meeting is free and open to the public.

R.S.V.P. by email: Programs@DelawareOhioHistory.org
or by phone: 740-369-3831, extension 3.

The Delaware County Historical Society is a non-profit organization whose mission is to promote, preserve and sustain interest in the history of Delaware County.  The Barn at Stratford is operated by DCHS as an event venue for weddings, corporate meetings and other special occasions.  To learn more, visit the venue and society web sites at barnatstratford.org and delawareohiohistory.org.

Save
Save
Save
Save