Franklinton Historical Society
Promoting interest in Franklinton history…nurturing a sense of pride in the Franklinton area
---
 Renaissance of Green Lawn Abbey
6:30 pm Wednesday, June 20, 2018
   by Kate Matheny, President Columbus Cemetery Association
For decades, Green Lawn Abbey (700 West Greenlawn Avenue) was closed, resulting in shocking deterioration due to water damage, overgrown bushes, and destructive vandalism. In 2008, the Green Lawn Abbey Preservation Association (GLAPA) was incorporated as a 501(c)(3) organization with a mission to clean, preserve, repair, and renovate this classic structure.  The mausoleum itself seems to possess magical qualities, weaving a spell on anyone who has ever stepped inside. To see it is to love it. Join Kate Matheny as she shares GLAPA's vision for ensuring a viable future for this amazing building, including upcoming improvements and exciting historic programs.
About Green Lawn Abbey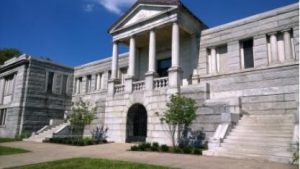 Green Lawn Abbey is a grand structure built in 1927 by the Columbus Mausoleum Company. It was the finest and largest in the area with room for 600 interments.  While the company constructed numerous other mausoleums in the surrounding area, Green Lawn Abbey was its largest and finest creation, undoubtedly their showpiece.  Built to last an eternity with 1½-inch thick granite walls, marble interior and an imported tile roof, the Abbey was designed to inspire awe. Marble faux-fireplaces, stained glass windows, and various religious statues adorn this beautiful final resting place of many notables who figured in local, as well as Ohio, history.
Program Location
Mount Carmel Community Health Resources Center
777 West State Street, Medical Office Building 2
Free parking in P1 Garage―enter off W. Town at Davis, turn right into garage.
Take elevator to 1st  floor, exit lobby, turn left, and building is on the left.  Enter at 2nd  door.
For more information contact the Franklinton Historical Society on their Facebook Page