Ice Cream Sodas, Juke Boxes and Carhops: A walk down memory lane

A survey of early restaurants and ice cream shops in Delaware County.

Presented by Brent Carson
Thursday Jan 19, 2017
7:00pm – 8:30pm at The Barn at Stratford
2017 Historical Society Research Project and Fair Theme
Each year, the Delaware County Historical Society selects a research project that surveys a historical aspect of Delaware County life. Recent themes have been: 2016 – Gas Stations and 2015 – Grocery Stores and Markets.
2017 Theme: Early Restaurants and Ice Cream Parlors
The research project begins with a survey of known establishments and taking photographs of what currently occupies that location. The results of that survey are presented to the community in a beginning of year "kick off" program. In that program we solicit information from the community about the theme:  this year Restaurants and Ice Cream Parlors. The society asks for identification of establishments, descriptions of the establishments, recollections, photographs, objects, and memorabilia from establishments to expand our knowledge and collections.
The second phase of the project is to create the Delaware County Fair Booth Exhibit presenting our accumulated knowledge of the year's theme in artifacts, pictures, and displays. The hundreds of visitors to our Delaware County Fair Booth learn about Delaware County's rich history by viewing and discussing the exhibits. They talk with Society members and volunteers about the exhibit and share their own recollections. Enriching us both.
The project concludes in late fall, when the Society presents a "final report" program that pulls together what we have learned from the research project over the year. All of the information, photographs, artifacts, recollections become part of the Delaware County Historical Society's permanent collection for future generations.
Join Us for the Kick-off
Come to "Ice Cream Sodas, Juke Boxes and Carhops" on January 19 at The Barn at Stratford. The program is free and open to the community. We welcome you to come and bring your memories of Delaware County historic restaurants and ice cream parlors.
For  map and directions to The Barn at Stratford click here
UPDATE – Restaurant program a rousing kick off!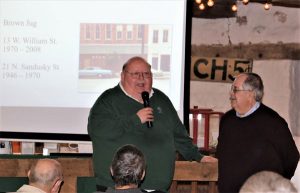 About 80 people showed up for the first program of 2017 on early restaurants and ice cream parlors in Delaware County. This was a real audience participation event enjoyed by all. One of our "guests of honor" was Ed Wolf who shared stories about the Brown Jug Restaurant. Ed then belted out his famous "Happy Birthday" song to Sue Heston. Sue seemed quite pleased, especially since everyone joined in the song.
We will continue to collect restaurant memorabilia until September – photos, menus, signs, uniforms, and any other items that could be displayed in the booth at the Delaware County Fair this fall. If you have anything to contribute, please contact the Society.
Save
Save
Save
Save
Save
Save
Save
Save
Save
Save