Our mission is to promote and sustain interest in the history of Delaware County, Ohio through historical preservation and education.
In pursuit of that mission, The Society has researched and created many historic tours, strolls, and walks that take participants through our rich Delaware County History.  We offer those tours to the community as public programs and to school groups as part of our Curriculum Support work.
Some of the history walks and tours that have been conducted include:
Rutherford B. Hayes "Life in Delaware"
Oak Grove Cemetery
Vincente Minnelli "Early Years in Delaware"
1913 Flood
Delaware Movie Houses
Self Guided History Walks
Two of our most popular history walks have been documented so the visitors can take the tour on their own anytime they wish.  The tours focus on two of the main streets in Downtown Delaware, each filled with historic notes about the buildings you see on these streets today.  The Self-Guided tours are available as a downloadable PDF file or a link to a Google Map with the route and tour notes included.
A Walk on Winter Street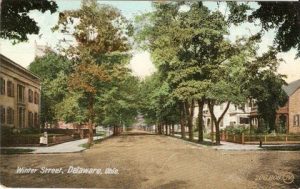 Winter Street is a pleasant blend of 19th and 20th century buildings on tree lined streets.  On this history walk you will see the 100 year old, and still operating, Strand Theater.  You will proceed to see many beautifully preserved residences as you walk toward the Monnett campus and garden.
A Walk on Winter Street – Self Guided Tour (PDF)
A Self-Guided Tour of Historic Winter Street in Google Maps
 A Stroll Down Sandusky Street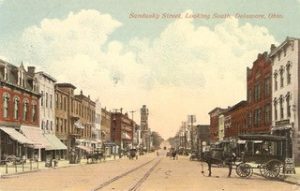 Sandusky Street is the center of the business district of Delaware Ohio.  It's history dates back to the earliest years of the city when it was called "Main Street".  The Sandusky Street Historic District was placed on the National Register of Historic Places in 1982.
A Stroll Down Sandusky Street Self-Guided Tour (PDF)
A Self-Guided Tour of Historic Sandusky Street in Google Maps
Stop in and Say "Hi!"
After your history walk, stop in at the Cryder Historical Center. Tell us about your walk, Ask us questions, learn more about Delaware County Ohio History, learn about the Historical Society.
Save
Save
Save
Save
Save
Save