The Delaware County Historical Society
presents
Little Brown Jug Program
Featuring Jay Wolf and Roger Huston
with Richard Leavy as moderator
About Little Brown Jug Program
Moderator Richard Leavy introduces the program. Two presenters, Roger Huston, the long-time announcer, and Jay Wolf, the unofficial historian of the race, will describe their experiences and comment on the significance of the race for our community.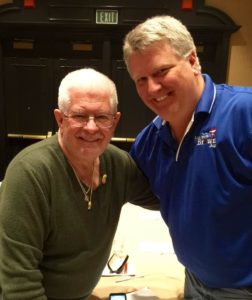 Roger Huston has been "The Voice" of the Little Brown Jug since 1967. A native of Xenia, Ohio, Huston is a member of the LBJ's Wall of Fame and the Harness Racing Hall of Fame.
Jay Wolf is a life-long resident of Delaware and has been in the Jug's Publicity Department since 2003. Wolf has covered Ohio harness racing for several industry publications.
During this year's broadcast of The Little Brown Jug, the Delaware County Historical Society will share segments of its Little Brown Jug Oral History Project during the race broadcast on radio station WDLR – Delaware
View the Program Video
About The LBJ Oral History Project
The LBJ Oral History Project seeks to capture, preserve, and disseminate the community's stories of the Little Brown Jug race in Delaware Ohio.  The stories are part of a digital archive for scholarship and edited portions are included in the LBJ Oral History Archive. 
We thank the sponsored this Program:
[smls id="7665″]
For more information, please call the society at 740-369-3831, ext. 3,
or email Programs@DelawareOhioHistory.org
---