MARK TWAIN RETURNS T0 DELAWARE
In the 1890's Mark Twain gave a lecture at the Delaware Opera House.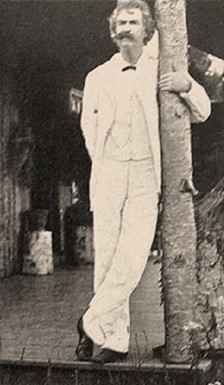 A Special Appearance and Lecture
Sunday July 8 at 2PM
at The Barn at Stratford, 2690 Stratford Rd., Delaware
Expect an enjoyable afternoon of the priceless humor and insights of Mark Twain as portrayed by Ken Barnett. In the tradition of Hal Holbrook, Ken's mentor, Barnett will have you laughing, thinking, and sure he's the real thing.
Opening act: Central Ohio's most famous sleight-of-hand magician, "Nate the Great"
Enjoy Free delizioso gelato from Ciao Café!
Reserve Your Seats
Admission: $12-adults, $8-children.
Purchase you tickets now! click here: Eventbrite "Mark Twain at The Barn at Stratford"
This program will be held at:
This program is sponsored by
For more information
Email director@DelawareOhioHistory.org  or call the Delaware County Historical Society at 740-369-3831, ext 3
740-369-3831
CRYDER HISTORICAL CENTER
RESEARCH LIBRARY
NASH HOUSE MUSEUM
157 East William Street, Delaware
MEEKER HOMESTEAD MUSEUM
THE BARN AT STRATFORD
2690 Stratford Road, Delaware