The Delaware County Historical Society presents
The History of Railroads in Delaware County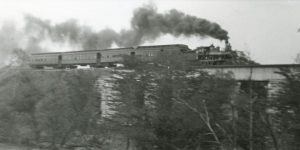 Wednesday, June 13 at 7pm –
The Barn at Stratford
This entertaining and informative program is back by popular demand.  Given by featured speaker Jack Hilborn, one of the leading authorities of early transportation in Delaware County.  This railroads presentation will discuss the five major railroads that came to Delaware County; the Columbus, Delaware & Marion Interurban system, and the City of Delaware Streetcar System. It should be a very fun "ride" through history.
Jack will display some railroad memorabilia and historic photos, many of the C.D. &  M. interurban.
About The Presenter

Jack Hilborn is president and longest serving member of the Delaware County Historical Society Board. Jack had been an avid model railroad entrhusiast for decades.  He was formerly on the board of the Central Ohio Railfans Association and is currently in his second term on the board of the National Railway Historical Society (NRHS).  Jack is also a member of several railroad historical organizations and is an avid collector and reader of various railroad publications.
Reserve Your Seats
The program is free and open to the public, however there will be an opportunity to make a donation, which will help defray the operating expenses of the Society.
To ensure adequate seating, registration is strongly suggested for this program Click to Reserve Your Seats Now or call DCHS at 740-369-3831, ext. 3.
This program will be held at:
This program is sponsored by
Update – Program Recap
For more information,Programs@DelawareOhioHistory.org
or call 740-369-3831, ext. 3.

740-369-3831
CRYDER HISTORICAL CENTER
RESEARCH LIBRARY
NASH HOUSE MUSEUM
157 East William Street, Delaware
MEEKER HOMESTEAD MUSEUM
THE BARN AT STRATFORD
2690 Stratford Road, Delaware