UnBANQUET in the BARN
A Historic Virtual Event
Did we all get a little used to staying home over the past few months? Haven't you wished you could "attend" an event in your jammies?
Like many other non-profits, we have lost a significant portion of our revenue since mid-March, by receiving fewer donations and memberships, and we saw a decrease in revenue due to canceled events and programs in the Barn. To remain self-sustaining, we must recoup the lost funds. We have planned a really fun way of doing that. The Banquet in the Barn will now be the UnBanquet in the Barn.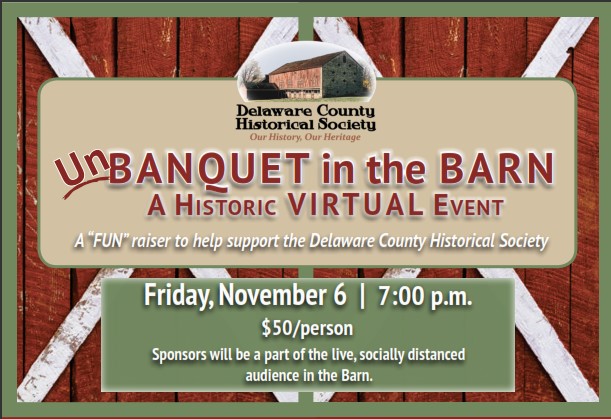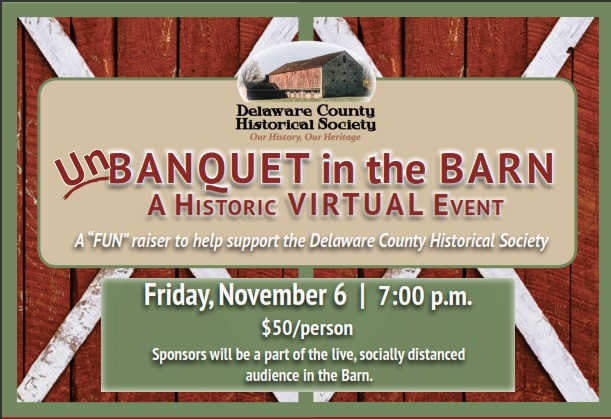 A "FUN" raiser to help support the Delaware County Historical Society
Friday, November 6 | 7:00 p.m. $50/Person
How will this work and what is included?
The event will be held via Zoom. "Attendees" will register on Eventbrite and will receive a Zoom link via email.
Live segments will feature Jeff Robinson as emcee and Dan Boysel as auctioneer.
Recorded segments will include historic reenactments featuring notable Delaware County residents who have been buried at Oak Grove Cemetery.
Best Jammies Contest–We have posted photos of community leaders in their jammies, and "attendees" will have an opportunity to vote on their favorite one. The winner will be announced at the UnBanquet.
Live/Silent Auction – Auctioneer Dan Boysel will show items for bidding that will be listed by Colin Howard on howardauctions.com. Items will be available for 5 days on the website.
Registrants will receive a discount on takeout food from Donatos Pizza or J Gumbo's.
UnBanquet in the Barn is proudly sponsored by
[smls id="9151″]
Also supported by
[smls id="9153″]
Please direct any questions to
Donna Meyer, 740-369-3831, ext. 3
or director@delawareohiohistory.org.