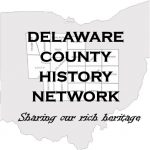 Delaware County History Network is a cooperation of the county's history-related organizations with history-related content for the benefit of the communities, history researchers, and visitors. The Network includes libraries, museums, a history park, and the county records center.
The network's purpose is "Sharing our rich heritage".
Big Walnut Area Historical Society – Myers Inn Museum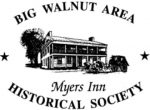 Located Southwest of the Square in Sunbury
45 S. Columbus St., Sunbury, OH 43074
Hours: Saturdays 10–3:00
Phone: 740-965-1154
Email: info@bigwalnuthistory.org
Website: www.bigwalnuthistory.org
Community Library in Sunbury Ohio


The library serves the six townships and two villages that comprise the Big Walnut Local School District.  The library supports local history interests with their management of the Delaware County Memory website.
Located at 44 Burrer Dr, Sunbury OH 43074
Phone: 740-965-3901
Email: community-library@oplin.org
Website:  community.lib.oh.us
Delaware County District Library


The Delaware County District Library is a system of five libraries; the main library is in Delaware. The library has extensive holdings and has a Local History Room which is shared with the Delaware County Genealogical Society.
Main Branch Address: 84 East Winter St., Delaware, OH 43015
Hours: Monday-Thursday 9:00-9:00 ; Friday 9:00-6:00 ; Saturday 9:00 – 5:00 ; Sunday 12:00-5:00
Phone: 740-362-3861
Email: askdelaware@delawarelibrary.org
Website: www.delawarelibrary.org
Delaware County Genealogical Society
"Preserving The History of Our People" The Delaware County Genealogical Society is dedicated to preserving our rich history for future generations. Numerous volunteers have donated countless hours to provide the information available through our library records and website. We hope you find them useful and visit our research Library soon.
(located in the library at) 84 East Winter St., Delaware, OH 43015
Phone: 740-369-4375
Hours: Thurs 10-11:30 & 1-4:30pm and Sat 9–1:00
Website: www.delawareohiogenealogy.org
Delaware County Historical Society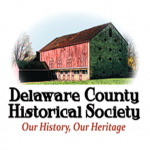 The Delaware County Historical Society is the county-wide historical society dedicated to preserving, promoting, and educating about Delaware County history.
Library Address: 157 E. William St, Delaware OH 43015
Phone: 740-369-3831
Hours: Sunday 2:00 – 5:00 pm; Wednesday 10:00 am – Noon and 1:00 – 5:00 pm
Our Facilities: Cryder Historical Center and Library, Nash House Museum, Meeker Home Museum, The Barn at Stratford
Website: delawareohiohistory.org
Delaware County Records Center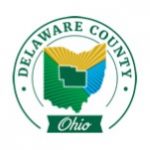 2079 US Rte 23 North, Delaware, Ohio 43015, Telephone: (740) 833-2140
Website: www.co.delaware.oh.us/records-center
The Records Center is equipped with a public research area. It includes indexes and reference materials for genealogical research, as well as microfiche readers for public use of microfilm. The Records Center has a storage capacity of over 6200 square feet full of Delaware County records from different county offices and historical records dating back to the early 1800's. A quick reference of our most commonly viewed materials can be seen at Available Records
Galena Historic Foundation Inc.
The Galena Historic Foundation was formed in 2013 to collect and display items and information about Galena's history.
Located at Galena Museum, 109 Harrison Street, Galena, Ohio 43021
The board meets on the fourth Wednesday of each month at 7:30 p.m. in the Galena Village Hall.
Website: https://www.facebook.com/GalenaHistoricFoundationInc
Contact: President Dave O'Neil  oilcityo@columbus.rr.com
Harlem Township Heritage, Inc.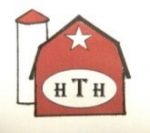 Preserving Our Past, Promoting Our Present, Preparing Our Future
Mission: To create interest in Harlem Township, its historical past and natural surroundings through preservation, conservation, education and Harlem Township Heritage, Inc.'s specific objectives.
Address:   3883 S. St. Rt. 605, Galena, OH 43021  (Located in Center Village)
Website: www.harlemtwpheritage.org
Powell Liberty Historical Society – Martin-Perry Homestead
Located at 103 East Olentangy Street in Powell
Open by appointment
Phone: 614-848-6210
Email: info@powellhistory.org
Website: powellhistory.org
Preservation Parks – Gallant Farm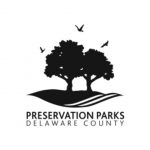 Located at 2150 Buttermilk Hill Rd., Delaware
Gallant Farm in Troy Township is a representation of a Depression-era farm, and includes a farmhouse with period furnishings, a barn with historic 1890s timbers, a granary, machine shed and barnyard, demonstration crop fields, vegetable garden, orchard, and pond. Visitors encounter costumed interpreters completing their daily chores — plowing the fields, tending the garden, or cooking on a wood-burning stove.
Website: https://www.preservationparks.com/parks/gallant-farm/
Radnor Heritage Society – Radnor Historic Museum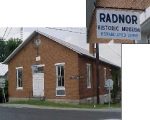 Located in Radnor at the Southwest corner of State Route 301 and Radnor Road
Interesting Radnor history through artifacts and pictures is housed in the Radnor Historic Museum. Admission is free and it is handicapped accessible.
Located at 4425 State Route 203, Radnor Ohio
| | | |
| --- | --- | --- |
| Contact: | Rachel Thomas | 740-595-3319 |
| | Roy Plymale | 740-595-3329 |
| | Martha Sparks | 740-361-1961 |
Hours: 1:30 – 4:30 pm on the 1st and 3rd Sunday in April – October
Websites:   www.radnorheritagesociety.org   Facebook! @radnorheritagesociety
Stratford Ecological Center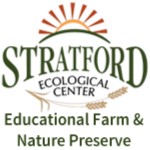 A non-profit educational organic farm and nature preserve on 236 acres in Delaware County, Ohio.
Located at 3083 Liberty Rd, Delaware OH
Hours: Mon – Fri: 9am – 5pm,  Sat: 9am – 1pm
website: www.stratfordecologicalcenter.org
Something Missing?
Do you know of another library, historical society or museum with Delaware County Ohio history content?   We will be happy to add it to this page, drop a note in our Suggestion Box.
Save
Save
Save
Save
Save
Save
Save
Save
Save
Save
Save
Save
Save