The Board of Trustees of the Delaware County Historical Society is pleased to welcome its newest member Dr. Alice Frazier. Dr. Frazier was approved as trustee by a unanimous vote at its January 2017 meeting.
Brent Carson, Board President, says "We are honored to have a person of the caliber of Alice on our board."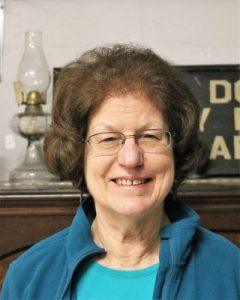 Alice Frazier is very active in community affairs. She currently serves on two other Delaware Ohio boards; The League of Women Voters and The Sarah Moore Home. From 2009 to 2015, Dr. Frazier served on the board of Delaware's senior citizen service agency, SourcePoint.   

Professionally, Dr. Frazier practiced Family Medicine at The Ohio State University in Worthington where she also taught medical students.  Many in Delaware County may remember Dr. Frazier from her family practice in Sunbury from 1981 to 2003. She also worked at a clinic in Mansfield and at the Union County Health Department.

Dr. Frazier agreed to serve on the board because she loves history and believes in the mission of the Historical Society. Dr. Frazier is also a member and active volunteer at the Historical Society.
The Delaware County Historical Society is a nonprofit institution.  It receives monetary support from the community for its facilities and collections and for its educational and historic preservation efforts.  The facilities and collections are among the most valuable assets of the Delaware County community.  The Society holds and utilizes these unique structures and treasures for the education and enjoyment of the public. Our Mission is to promote and sustain interest in the history of Delaware County, Ohio through historical preservation and education.

Save
Save
Save
Save