Delaware County Historical Society announces the opening of our latest exhibit-
 Satin and

Steel

: Busting Myths and Demystifying Historical Undergarments
The Delaware County Historical Society (DCHS) today announced the opening of its latest exhibit, Satin and Steel: Busting Myths and Demystifying Historical Undergarments. The exhibit will run through April 2023 at the Nash House Museum, located at 157 E. William Street, Delaware.
The exhibit explores a more "intimate" side of history, featuring a sampling of women's under garments from the DCHS collection and their evolution throughout the century from 1870s – 1970s. From bustles, corsets and petticoats to a colorful collection of 1920s lingerie, visitors will have the opportunity to view a variety of intimate apparel and understand their place in history.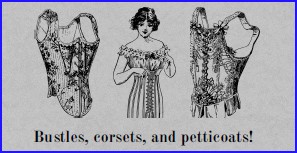 This delicate collection from our extensive archives of textiles and period dress and accessories allows us to explore a slightly more taboo but no less relevant piece of history," said Donna Meyer, DCHS Director. "Clothing and how we dress is such a significant part of our social past and present, and the lengths we are willing to go to achieve a desired look are telling. As a special project from one of our volunteers, Ronan Thompson, the artifacts have tastefully curated for this interesting exhibit. It's a must see."
Guests visiting the exhibit will also have the opportunity to tour the historic Nash House Museum, an authentically decorated Victorian era (1820 – 1914) home.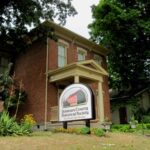 The Nash House Museum is open to the public every Wednesday from 10 AM to 5 PM (closed noon to 1PM) and on Sundays from 2:00 PM to 5:00 PM or by appointment. Admission is free, donations are welcome and encouraged to further the Delaware County Historical Society mission.
The Delaware County Historical Society is a non-profit organization committed to promoting, preserving and sustaining interest in the history of Delaware County, Ohio. In addition to regular educational programming for all ages, DCHS owns and curates exhibits at several historical sites, including Nash House Museum, Meeker Homestead & Museum and the Delaware Historic Jail & Sheriff's Residence. Learn more, view event and exhibit schedules and find additional museum information at https://www.delawareohiohistory.org/. The organization also operates The Barn at Stratford event venue for weddings, corporate meetings, and other special gatherings. To learn more or book an event, visit https://barnatstratford.org/.