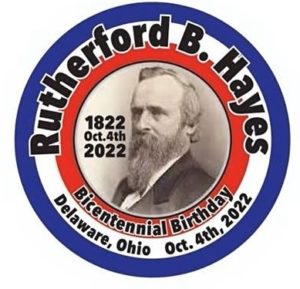 Celebrate President Rutherford B. Hayes's 200th Birthday
With a day-long celebration!
October 4, 2022, will mark the bicentennial birth-date of Delaware's own Rutherford B. Hayes, 19th President of the United States. Only 45 communities in the country can claim that someone born in their town went on to become President. To commemorate this once-in-a-lifetime occasion, the R.B. Hayes Heritage Committee is planning a day-long celebration.
Date:  Tue, October 4, 2022
Location: Delaware Ohio, R.B. Hayes birthplace
About the R.B. Hayes Heritage Committee
Formed in 2018, the R.B. Hayes Heritage Committee's mission is to bring appropriate recognition to and educate the community about Delaware's native son, Rutherford B. Hayes. With the help of a generous community, the committee has already erected a 7' bronze statue and interpretive panel with a timeline of Hayes' life in the plaza at the corner of William and Sandusky Streets. At Hayes High School, a granite pedestal holding a bronze bust of Hayes now sits in the front entrance rotunda. Additionally, an upgraded memorial sign with improved landscaping marks the site of Hayes' birth at 17 East William Street in Delaware.
In furtherance of its educational mission, the R.B. Hayes Heritage committee will henceforth celebrate R.B. Hayes Day on October 4.
This year's bicentennial celebration, presented by Greif Inc., will include:
A tribute ceremony starting at 8:30 a.m. at the R.B. Hayes Plaza at the corner of Sandusky St. and Williams St..
At noon, Ohio Wesleyan University will host a Hayes Day activity in Merrick Hall spotlighting the connection between Paraguay and President Hayes.
The Delaware City Schools will have grade-oriented programs portraying the qualities of Hayes and the events that shaped his work in Ohio and national government.
At 6 p.m.,the day will conclude with a catered dinner and program at Rutherford B. Hayes High School view map. All proceeds from the event will be used to establish a Rutherford B. Hayes Scholarship to be awarded annually to a deserving Hayes graduate beginning in 2023. Tickets are $50 per person.
Click to Purchase Tickets for the Dinner and Program on Eventbrite
All are welcome to participate in any or all planned activities.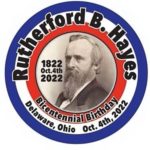 Proclaiming October 4th, 2022 as R.B. Hayes Day are:
The Ohio Legislature
Delaware County Commissioners
Delaware City Council
Delaware City Schools
Don't miss the opportunity to be part of a historic day in Delaware County.