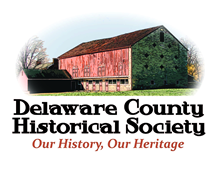 How would you like to own a classic stool from the Hamburger Inn? Donated to us when the restaurant underwent a renovation, we are now able to offer a few to the general public on a silent auction hosted by Howard Auctions.

ONLINE ONLY – 
STARTS Wed Oct 06, 2021, 12:00 PM
– 
ENDS Mon Oct 18, 2021, 9:00 PM
You can also bid on a beautiful 1880 History of Delaware County book, gold candy boxes from the Nectar, a WWI helmet, a COHatch theater event, and much more. Bidding will continue until Oct 18th.
Auction Items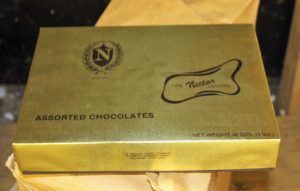 #1 Twelve Gold Nectar candy company boxes
– Iconic "Nectar" chocolates boxes from the Nectar candy store that graced Sandusky Street for many years. These are empty, waiting to be filled with your own homemade goodies. Each box is approximately 6" x 8" and 1 inch tall.
#2 Twelve glass Pagoda candy dishes – Clear candy dishes rescued from the Nectar candy story that was located in Delaware. Each dish is constructed from 3 separate stacking pieces topped with a lid.  Each piece is approximately 4" in diameter and 2" tall.
#3 Twelve rectangular glass leaning jars – Clear glass jars that sit flat, but lean forward for easy access to whatever treats are placed inside. The jars are thick glass and approximately 10" tall.
#4 Five Nectar 1953 Corvette chocolate molds – A golden opportunity for treating your car enthusiast with a chocolate corvette. Each mold is backed with an informative card about Chevy's first sports car – the 1953 Corvette. The molds are plastic and about 5" long.
#5 set of 6 Hamburger Inn stools – Original stools from the iconic Hamburger Inn Diner were removed during the renovation. Black on silver pedestals, these bring back memories of sipping a soda or munching on one of those delicious maple rolls with coffee on a lazy Saturday morning in downtown Delaware. Some need assembly. Sell in pairs.
#6 COHATCH Delaware Hall of Mirrors Event – four-hour rental, featuring live edge bar area, elegant white oak tables, separate black and white décor seating area, stage with flat-screen, outdoor patio with fire pit, game room access, and more! – Value $720
#7 Set of three dinner-sized Commemorative Plates, including Delaware County (1803-1953) Sesquicentennial; Ostrander, Ohio Centennial (1875-1975); and Sunbury Sesquicentennial (1816-1966). The Delaware and Sunbury plates feature historic sites from the areas.
#8 Metal Oil Lamp – A unique metal decorative piece for rustic décor. This black metal lamp has no shade, just an open cup for a low glow. Approximately 6" tall and 4" in diameter.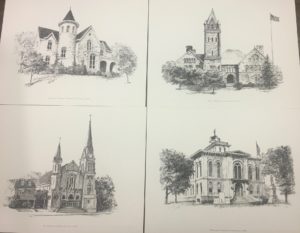 #9 Two sets of Drawings of Delaware Landmarks
– each set contains four depictions of iconic buildings in the city of Delaware, Ohio. The set is titled "The Huntington (Bank) Presents Cornerstones of The Delaware Community." Featured are The Arts Castle (1854), Ohio Wesleyan University's Gray Chapel (1842), The Historic Delaware County Courthouse (1868), and St. Mary Catholic Church (1835). Each 14" X 11" drawing is on heavy paper and is perfect for framing.
#10 Brass coat stand – An elegant addition to any foyer, this brass coat rack extends to approximately 6 1/2'. Its decorative base is beautiful and heavy. The unique shape of its arms makes this a real focal piece.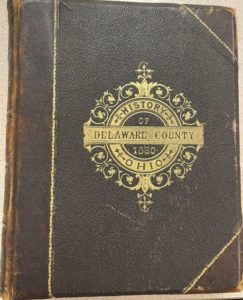 #11 1880 History of Delaware County
– This beautiful edition has gold page ends and contains interesting and telling facts about the history of our county and prominent citizens. Approximately 12" x 10" and 2" thick.
#12 A set of four collectible books of Delaware History including
the 1986 Little Brown Jug Festival booklet;
the Delaware County Sesquicentennial souvenir program (1958);
Delaware County Will Book No. 4 – 1859 – 1869 Abstract and Index by Marilyn and George Cryder printed in 1986;
"Old Building Owner's Manual" printed by the Ohio Historical Preservation Office and the Ohio Historical Society, which also comes with the Building Inspection Guide.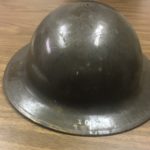 #13 A WWI soldiers' helmet
– heat-stamped "248 ZD" no lining or strap. Minor scratches.
#14 COHATCH Delaware Theater Event – your own private four-hour event, featuring 158" screen, surround sound, popcorn machine, access to streaming platforms + DVD/Blu-ray, leather recliners, balcony deck, shared game room, and more. Bring your own food and beverages, capacity 32. Value $300.
---
DELAWARE COUNTY HISTORICAL SOCIETY BENEFIT