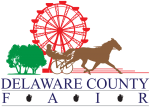 The Delaware County Fair 2019 is here again and the Delaware County Historical Society has a great new booth exhibit:
School Days
One Room Schools and Early Education
The exhibit included photographs of one-room schoolhouses, or its location, the Brent Carson and Brad Cowan captured on their mission to find as many of the 200 one-room schoolhouses that once existed in Delaware County. This ongoing project asks the community to help identify, locate and describe the one-room schoolhouses from memories and artifacts.
The Society's Delaware County Fair 2019 Booth had a new location in the Merchants building, on the east wall near the front doors. This new location provided a huge display space with no steps for easy access.
The booth is filled with graphic displays about the Society's exciting activities and this year's theme One-Room School Houses.
A Graphic Display of the Society's Exciting Happenings; Monthly Programs, a premier Tour of Historic Stratford, Extensive renovation of our historic Barn at Stratford, and more.
A Graphic Display of the One-room Schoolhouse Project combining new photographs with vintage pictures from the Society's collection.
A Graphic Display of our Barn at Stratford Historic Event Venue
Artifacts and models of old-time school days; chalkboard, horse-drawn "School Bus", school bell and desk/chair.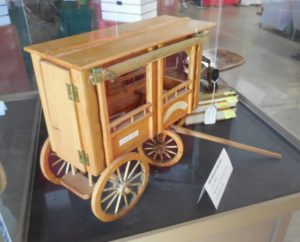 About the Fair
The Delaware County Fair has a long tradition of not only providing an enjoyable place for people to exchange ideas, demonstrate skills and exhibit products, but is also a great source for recreation, entertainment, visiting and learning.
The Delaware County Fair hosts many outstanding events including 5 days of the best in harness racing capped off by the prestigious Little Brown Jug on Thursday as well as displays from 100's of exhibitors and a full schedule of motorsports events ranging from demolition derbies to school bus racing.
The Delaware County fair is a tradition and an event that you certainly don't want to miss!
CRYDER HISTORICAL CENTER
RESEARCH LIBRARY
NASH HOUSE MUSEUM
157 East William Street, Delaware
MEEKER HOMESTEAD MUSEUM
THE BARN AT STRATFORD
2690 Stratford Road, Delaware