The Delaware County Historical Society
is pleased to present
New Shelving at our Cryder Research Library
At the heart of the Cryder Research Library is the society's collection of Delaware County History research papers, reference works, and books. Many of these resources are the work of society volunteers combing newspapers and government records to make information accessible. They pull together cemetery and burial records, family histories, school yearbooks, obituary clippings, city and rural directories dating a century past.
The aged wooden shelving could not sustain the weight of the volumes. To lighten the load, some materials had to be moved to open spaces, some were stacked on the floor. Library grade shelving was needed but that required funds.
The Ohio History Connection's History Fund accepts grant applications each year in a competitive process. A society team was organized to prepare an application for funds to purchase new library shelving. The Society's application was one of ten selected for funding.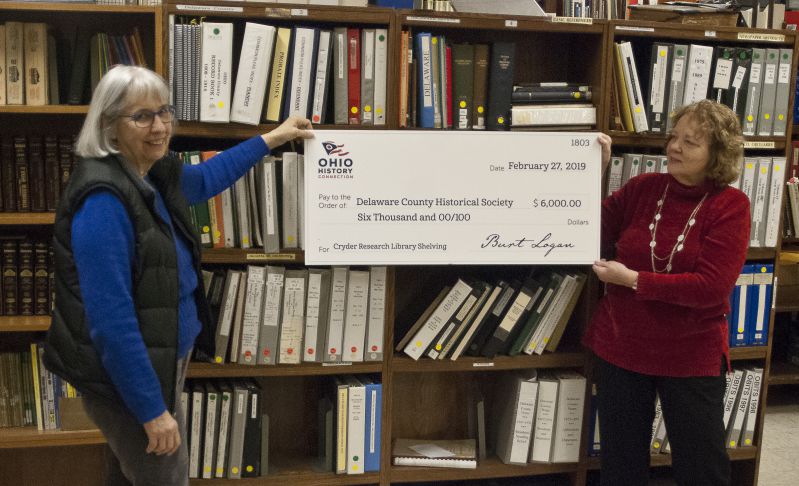 Cryder Research Library Shelving replacement is made possible in part by a grant from the Ohio History Connection's History Fund. The History Fund is supported exclusively by voluntary donations of Ohio income tax refunds, sales of Ohio History "mastodon" license plates, and designated gifts to the Ohio History Connection. www.ohiohistory.org/historyfund
---
---
CRYDER HISTORICAL CENTER
RESEARCH LIBRARY
NASH HOUSE MUSEUM
157 East William Street, Delaware
MEEKER HOMESTEAD MUSEUM
THE BARN AT STRATFORD
2690 Stratford Road, Delaware