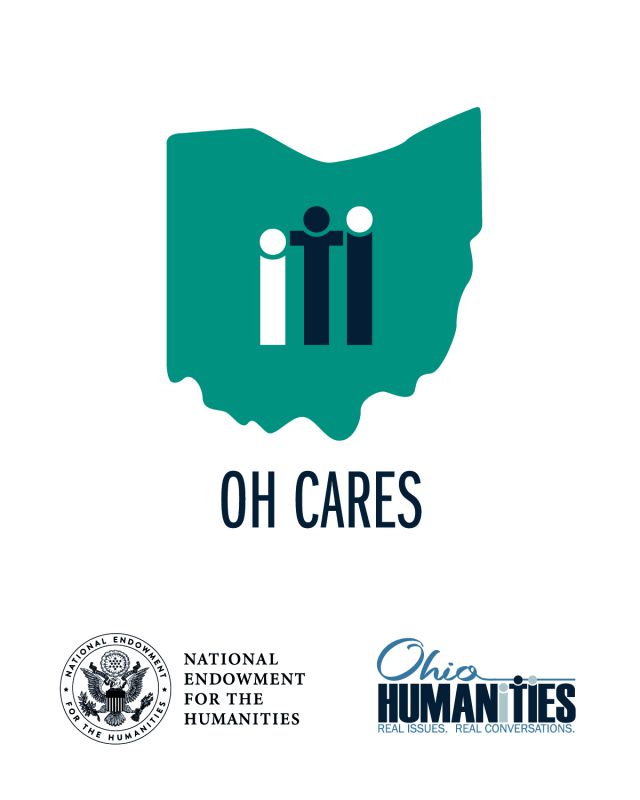 Support has been provided by Ohio Humanities, the National Endowment for the Humanities, and the Federal CARES Act of 2020.
The Delaware County Historical Society has been suffering from the Covid-19 virus in several ways:
"Stay-at-Home" meant canceling our popular local history programs and activities that bring in donations that support the work of the Society.
Closing our museums and the library smothered a major source of new members and donations.
School closings canceled school programs that also contribute to the support of the Society.
Changing to Virtual Programs and Activities required investment in technology and re-vamping materials to a new medium.
Changing School Programs to Learn at Home Resources took many volunteer hours and publishing "at home" materials.
A CARE grant from Ohio Humanities
The Delaware County Historical Society has received an Immediate Emergency Grant of $10,000 from Ohio Humanities. As part of the Federal CARES Act, funds were allocated to assist non-profits suffering the economic impact of the COVID-19 virus. Specifically, Congress appropriated funds to the National Endowment for the Humanities which were designated to state humanities councils to aid cultural/heritage organizations. These funds will be used to help the Delaware County Historical Society with short-term core operating costs and will help our organization cover expenses incurred due to purchasing necessary safety materials as we are finally able to reopen.
---
CRYDER HISTORICAL CENTER
RESEARCH LIBRARY
NASH HOUSE MUSEUM
157 East William Street, Delaware
MEEKER HOMESTEAD MUSEUM
THE BARN AT STRATFORD
2690 Stratford Road, Delaware