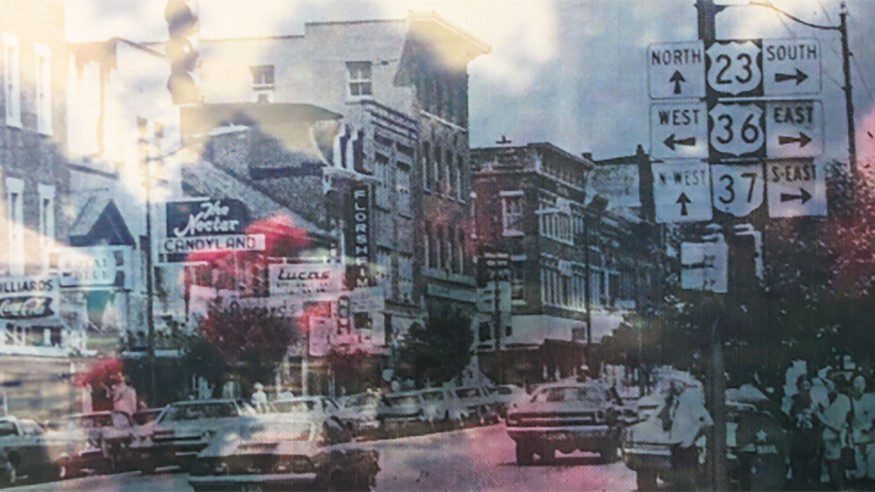 An outdoor video exhibit by Tiffany Carbonneau and Susanna Crum,
"The Shadows We Cast"
will be on display from Sept. 20-Oct. 31, 2017,
on the façade of the Richard M. Ross Art Museum, 60 S. Sandusky St., Delaware
The exhibit opens today, Sept 20, with a special celebration at the museum at 7:15 p.m., including hot chocolate and hot cider to watch the video.  Delaware County Historical Society Museum and Exhibits Chair, Benny Shoults will speak on the value of digital archives ( you can view  "The Value of Archives to the Community" here. )
Running from dusk till after dark every day through Oct. 31, the exhibit will feature an architectural-scale video created specifically to be projected on the museum's front facade. The 12-minute looping video will highlight materials from the archives of Ohio Wesleyan and over 100 images from the collections of the Delaware County Historical Society.
Carbonneau, M.F.A., a video installation artist, is an assistant professor of art at Indiana University Southeast; Crum, M.F.A., a printmaker and interdisciplinary artist, conducts "research-based, site-specific projects that investigate the layers of history stored within public spaces." Learn more at www.tiffanycarbonneau.com and www.susanna-crum.com.
The Ross Art Museum
Ohio Wesleyan University's Ross Art Museum's permanent collection of more than 2,500 works by artists such as Pablo Picasso, Frank Stella, and Alfred Stieglitz serve as a rich resource for students, faculty, and other scholars.
During the academic year, the Ross Art Museum is open Tuesday, Wednesday, and Friday from 10 a.m. to 5 p.m.; Thursday from 10 a.m. to 9 p.m.; and Sunday from 1 p.m. to 5 p.m. The museum is handicap-accessible and admission is always free.
For a map and directions to the Ross Art Museum, click here.
Call (740) 368-3606 or visit www.owu.edu/ross for more information.
The Delaware County Historical Society
The Delaware County Historical Society is a non-profit organization funded by donations and fueled by a marvelous corps of dedicated volunteers. We collect, conserve, research, and catalogue artifacts of historical import. We obtain, maintain, and make available to the community historic places including The Barn at Stratford. We support county school history teachers and students. We prepare and present programs and exhibits year-round to educate and promote Delaware County History. The Society is proud of our long collaboration with OWU on preserving Our Shared History and programs like this outdoor video exhibit.