The Delaware County Historical Society held our annual Volunteer Recognition Event at The Barn at Stratford on April 19, 2018. The Society, almost entirely volunteer, takes this event to recognize the enormous contribution of all those who volunteer their time, talents, ideas, and enthusiasm to the benefit of the Society and the entire Delaware county community.
Every volunteer is unique and important to the work, mission, and success of the Delaware County Historical Society.
Everything we do is done by our volunteers:
Engaging visitors at our historic properties (outfitted by our volunteers),
Cataloging and managing the donated items that compose the historic record of Delaware County,
Creating and presenting exhibits and displays at events and in public display areas,
Setting goals, developing plans, and managing finances,
Presenting outreach local history programs to county school classes, senior facilities, and anyplace else we can "Bring History to Life" in Delaware County History.
Program:
Welcome – Karen Cowen and Susan Logan
Keynote Speaker – Professor Hiram Perkins aka Tom Bums
Hiram Mills Perkins, professor of Mathematics and Astronomy at Ohio Wesleyan University. When the Civil War began, in 1861, he left his teaching position to join the Union Army. The 6′ 4″ 97 lb professor was rejected as unfit for service. Undaunted, Hiram did the next best thing… he returned to his family's farm and raised hogs to help feed the Union Troops.  Upon retirement in 1907, Hiram devoted himself to planning for an observatory in Central Ohio. In 1923, Hiram Perkins (at 90 years old) officiated at the ground-breaking for the construction of the observatory. Hiram died soon thereafter, never seeing his project completed.
Video Celebration of Volunteers – "Share the Joy" Crafted by Diane Williams


Volunteer Opportunities – Karen Cowan, Susan Logan, Committee Chairs
Recognition Awards – Karen Cowan
Karen set the tone for the volunteer recognition awards by recognizing the contributions of all the volunteers. On behalf of the entire Board, she thanked all the volunteers.
Outstanding Volunteers
Brad Cowan, Mike Hoffman, Joe Dwenger, Susan Button, Geoff Gruendl, Sue Bauer, Dave Nungesser, Rob Dyson
Marilyn Cryder Volunteer Award – Donna Meyer, Presenter

Marilyn Cryder's longtime dedication to the Society and her years of volunteer contributions in recognized by giving her name to the Volunteer of the Year award.  Susan Logan described the many roles and contribution that led to this year's award winner before calling Diane Williams to receive the award.

Volunteer Hall of Fame Inductions – Karen Cowan , Presenter

The Society established a "Volunteer Hall of Fame" to recognize those volunteers who over a period of years exemplified the spirit of volunteering at the Society.  The 2018 Hall of Fame Inductees are: Matt Kear, Ana Babiasz, Mary Ann McGreevey

Director's Award – Donna Meyer, Presenter

The Director's Award is a new recognition for a volunteer who especially contributes to assist the Society Director. Donna Meyer cited Ralph Au's breadth of volunteer activities (from lawn mowing to parking assistance to disaster recovery planning to technology to Treasurer) in presenting the award.
About Tom Burns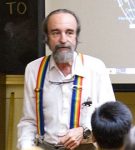 Tom Burns is director of the Perkins Observatory in Delaware, an avid stargazer. Tom has contributed Star Gazing columns to the Delaware Gazette. Read one of Tom's columns
For more information about volunteer opportunities
Visit the Society Volunteer Webpage, or email Info@DelawareOhioHistory.org or call 740-369-3831, extension 3.
The Delaware County Historical Society is a non-profit organization whose mission is to promote, preserve and sustain interest in the history of Delaware County. The Barn at Stratford is operated by DCHS as an event venue for weddings, corporate meetings and other special occasions.
740-369-3831
CRYDER HISTORICAL CENTER
RESEARCH LIBRARY
NASH HOUSE MUSEUM
157 East William Street, Delaware
MEEKER HOMESTEAD MUSEUM
THE BARN AT STRATFORD
2690 Stratford Road, Delaware