The Delaware County Historical Society
will present
"Band at the Barn"

Thursday, August 16 at 7pm
Featuring: The Delaware Community Concert Band

at The Meeker Homestead, 2690 Stratford Rd. Delaware
The Program
The Delaware Community Concert Band, under the direction of Anne Brandyberry, will perform a variety of selections, including music from "The Lord of the Rings" and a medley of tunes by The Doors led by band members serving as guest conductors.
Rain or Shine Concert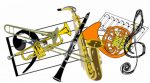 Weather permitting, the concert will be held on the grounds of The Meeker Homestead. Folding chairs will be available but attendees are welcome to bring lawn chairs or blankets. In case of inclement weather, the band will perform inside.
This program is free and open to the public, however there will be an opportunity to make a donation, which will help defray the operating expenses of the Society.
This program will be held at:
About The Delaware Community Concert Band
The Delaware Community Concert Band plays all genres of music. They perform at Delaware First Friday, Harmony in the Park, Delaware Arts Festival as well as school and events around the county. The band was organized in 1992 and welcomes musicians of all ages and skill levels. Anne Brandyberry has directed the band since 2009.  Join their open rehearsals on Thursday evenings from 7-9 pm at Dempsey Middle School. To learn more contact Director Anne Brandyberry – email: annebrandyberry@yahoo.com, phone: 740-602-0045.
For more information about this event Programs@DelawareOhioHistory.org
or call 740-369-3831, ext. 3.
740-369-3831
CRYDER HISTORICAL CENTER
RESEARCH LIBRARY
NASH HOUSE MUSEUM
157 East William Street, Delaware
MEEKER HOMESTEAD MUSEUM
THE BARN AT STRATFORD
2690 Stratford Road, Delaware