The Delaware County Historical Society
is pleased to present
a Sidewalk Exhibit of Delaware History:
Rutherford B. Hayes Coming Home
The Sandusky Street display window of The Hair Studio supports the upcoming unveiling of the Rutherford B. Hayes Statue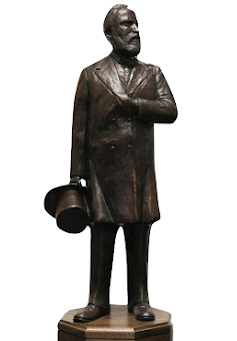 Hayes Statue Unveiling
Friday, October 4, 2019 at 6:30 pm, which celebrates the 197th anniversary of his birthday.
The plaza on the southwest corner of William St. and Sandusky St. in Delaware Ohio.
The new window display features:
The Sculpture model from which Alan Cottrell, noted Ohio sculptor, is creating the full Hayes statue
Archival photos of Rutherford and Lucy Hayes from the Delaware County Historical Society collection
Benny Shoults and Maggie Webb have created a wonderful presentation that brings Delaware history to life through historic artifacts, information, and photographs.
The artifacts in the display are from the Delaware County Historical Society's extensive collection. Visit the Cryder Historical Center and Research Library at 157 E Williams Street to see more.
About the project
HayesComesHome.org , a local organization seeks to bring appropriate recognition to our city and demonstrate pride, through a statue memorial of R.B. Hayes. The statue will permanently pay tribute to our native son. It will welcome visitors to the community and serve as a focal point for the plaza. The project held a Kick-Off at the plaza site on October 5, 2018 featuring committee members Bill Rietz and Brent Carson.
Visit HayesComesHome.org to learn more about the project or add your support.
About The Hair Studio
The Hair Studio at 33 North Sandusky Street in Downtown Delaware Ohio has graciously made their window available the Society for several years. If you are downtown, be sure to take a look at our display. While you are there, and ask for "Steve" and thank him for the generous use of the space. For a map and directions click here.
About The Delaware County Historical Society
The Delaware County Historical Society is a nonprofit institution. Our mission is to promote and sustain interest in the history of Delaware County, Ohio through historical preservation and education.
CRYDER HISTORICAL CENTER
RESEARCH LIBRARY
NASH HOUSE MUSEUM
157 East William Street, Delaware
MEEKER HOMESTEAD MUSEUM
THE BARN AT STRATFORD
2690 Stratford Road, Delaware