The Delaware County Historical Society is pleased to present a new display window at The Hair Studio:
Thank You Letters from Delaware County School Children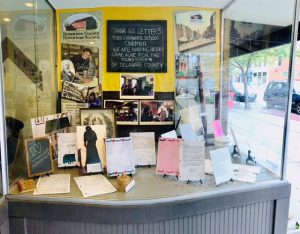 A tableau of thank you letters written by our school children paired with the artifacts that they mentioned in their letters.  Together they testify that our Education Support Team is "Making history come alive for the youngsters of Delaware County".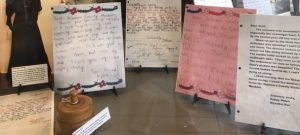 The thank you letters in the display are from Tyler Run, Wyandotte Run, and Arrowhead Schools (all in Olentangy school district) however they reflect the many letters students have presented.  The letters displayed are from former students.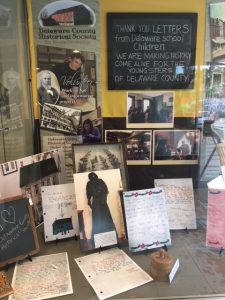 The artifacts in the display are from the Society's extensive collection:
Hand pumped vacuum cleaner
Ladies' corset
Chamber pot with lid
Child's one-piece underwear with drop seat
Framed hair wreath
Butter mold
Also included were two items from the Nash House Museum:
Picture of a Mourning Dress
Poster-size picture of the Doll House
About The Hair Studio
The Hair Studio at 33 North Sandusky Street in Downtown Delaware Ohio has graciously made their window available the Society for several years. For more information about The Hair Studio, for a map and directions click here.
About The Education Support Team of The Delaware County Historical Society
Integrating Delaware County's History into the classroom experience is the goal of the Curriculum Support team.  There are a variety of ways to experience this history with a tour, a visit, or a Society volunteer can come into the school.  We are here to supplement the curriculum to include information about Delaware's rich cultural past.
Learn more about Education Curriculum Support on our webpage which features a lively video.