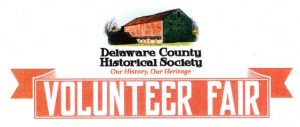 The Delaware County Historical Society will be holding its 2017 Volunteer Fair
on Thursday, March 23rd
Stop By Anytime 7-9 pm
at The Barn at Stratford
There are so many exciting endeavors underway at the Delaware County Historical Society. Volunteers are needed more than ever! No matter what your skills, interests, or availability, there is a place for you.
Volunteering is our Tradition
The Delaware County Historical Society has, until this year, been an all volunteer organization. We are community people working to discover, preserve, and share the rich history of Delaware County Ohio.
What does The Historical Society Do?
We reach out to our community and its visitors. Year-round we have events and programs that engage our neighbors. From helping a homeowner research the provenance of their homestead to taking traveling "history carts" to our schools, we keep our history alive.
We also research our history, catalog the photos, documents, and objects of our history. We use powerful software to manage our ever-growing collections. We research, author, edit, publish and present on local history topics. We photograph and videograph to preserve history as well as comparing yesteryear to today. You may have seen our Underground Railroad Program or seen our display window at The Hair Studio on Sandusky Street.
Why Volunteer with The Society?
Volunteering at the Historical Society is a great way to learn more about the Delaware community. You may pick up new skills as we provide "on-the-job" training. Whatever your skills, your contributions are needed and will be appreciated. Not only that, we enjoy working together and have a good time.
What's a Volunteer Fair?
A Volunteer Fair is a volunteer recruitment event. The Committee Chairs, Volunteer Coordinators and Project Managers will be on hand to discuss their activities and projects. Mingle with them and current volunteers over refreshments. This collegial approach to volunteer recruitment has been a tradition in the Society for years.
Come and join us on March 23rd at 7-9pm at The Barn at Stratford.
Want to volunteer, but can't make the Fair?
Contact Us at: volunteer@delawareohiohistory.org
or Call Us at: 740-369-3831
Save
Save
Save
Save
Save