The Delaware County Historical Society and The Arts Castle
Joint Project
ALL THE RAGE: ART AND FASHION IN EARLY DELAWARE COUNTY
The Arts Castle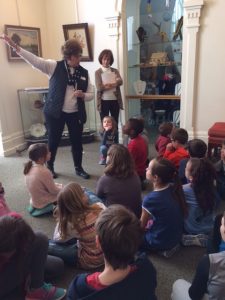 and the Delaware County Historical Society(DCHS) have created a shared exhibit based on the early art in Delaware. This art concept includes clothes, furniture, paintings, needlework, jewelry, children's items, lithographs and more, chiefly from the Victorian era (1800s). Paula Blosser and Mary Williams from the Arts Castle met with the Curriculum Support Committee for this project because the vision is to have all the 3rd grade classes in the county to tour the exhibit. During the tours, DCHS volunteers will be on hand to provide context and stimulate discussion about the items from our collection. Local history is part of the 3rd grade curriculum for all Ohio schools and the Arts Castle wanted to feature the art and artists from the early years of Delaware.
DCHS volunteers Susan Logan and Maggie Webb have gathered the 80+ items selected by the Arts Castle for the exhibit. Once gathered, each item was reviewed, fully catalogued in a PastPerfect database, and evaluated for travel to the Arts Castle. The items were carefully packaged and sent to the Arts Castle. Karen Hildebrand created tour guide materials using PastPerfect to research the items and add historical background for different aspects of the fashion, art, furniture and more. Volunteers from the Curriculum Committee launched the tours with the 3rd graders on March 16. The tours will continue until April 3. Giving an expected 1200 county students an up-close look at Delaware County Art and Fashion.
Exhibit Hours
Members of the Society and community are invited to see the Art and Fashion exhibit March 13 – April 28 during open hours at the Arts Castle. The DCHS Curriculum Volunteers will be giving guided tours at 9:00 and 12:00 each day only through April 3rd.
For more information about the exhibit, visit the Arts Castle website.
About DCHS Curriculum Support
The Delaware County Historical Society recognizes the need to interest and educate the children of the county in Delaware County's rich history and heritage. The Curriculum Support Committee is a dedicated group of volunteer who reach out to Delaware County Schools and teachers to provide support for their teaching of our local history. The committee provides speakers, information, artifacts, and entire programs both in-class and at our historical properties. The committee's "Tote Bag" Program won an Ohio State award and "The Underground Railroad Experience" has garnered praises from students, educators, and the adults who attended a special presentation.
For more information on the Curriculum Support Committee see our webpage.
About The Arts Castle
The Arts Castle at 190 W. Winter St. in Delaware is the Delaware County Cultural Arts Center. The Castle offers classes in Painting, Drawing, Ceramics, Music, Dance, and more for children through adults. In addition to education, exhibits and events are presented throughout the year to make The Arts Castle a cultural focal point in the historical Northwest Neighborhood.
Save