The Robbins Hunter Museum reopens on April 4!
Come for a tour
Wednesday through Saturday 1 p.m. to 4 p.m.
through December 29!
In the gardens at RHM more than 400 varieties will bloom this spring .
The weekend of April 14 and 15 in Granville will be a weekend to celebrate the cheerful harbinger of spring, the Daffodil flower.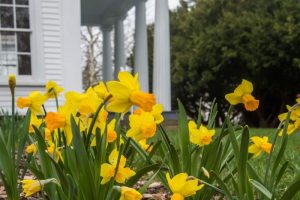 Saturday the 14th is Garden Day at Robbins Hunter Museum, coinciding with the annual Daffodil Show at Bryn Du Mansion that weekend and the day's schedule is full.
Notable to RHM's Garden Day is the American Daffodil Society's (ADS) recognition and dedication of the Jill Harms Griesse Historic Garden at 12 noon.
Garden Day coincides with the annual Granville Garden Club's Daffodil Show and Sale at Bryn Du Mansion and activities at both venues have been planned collaboratively
Spring and Summer Events:
April 14 – Celebrating Daffodils

10AM Summer Bulb Workshop ($)
12PM Garden Dedication (FREE)
7PM "Undaunted Daffodils" feat.
Brent Heath of Brent & Becky's Bulbs ($)

April 19

7:30PM Phoenix Rising: Scandalous Voices Roundtable ($)
Journalistic Truths Standing in the Face of False Rhetoric

May 3

1PM -4PM  Turn Off Your Screen
The house is open for tours and a gardener on hand to answer questions

May 16

Ordinary & Extraordinary Exhibit Opens
Victorian Undergarments 1860-1880

June 16

Dining By Fireflies
Save the Date!  More details to come!

June 21

There is No Frigate Like a Book: Reading in Mid-Nineteenth Century America ($)
An illustrated talk by Thomas Wortham, PhD
Learn more about these programs and RSVP at www.robbinshunter.org/
Robbins Hunter Museum • 221 East Broadway, P.O. Box 183, Granville, OH 43023 • (740) 587-0430