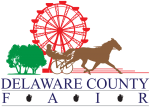 Come to the Delaware County Fair 2018
and visit the Delaware County Historical Society's exhibit
"History of Rail Transportation in Delaware County"
As you drive through Delaware County, you notice it is criss-crossed by railroad tracks.  Those railroad tracks powered the growth of Ohio and Delaware County for many decades.  The railroads brought people, goods, and raw materials for our towns, cities, and industries.  Those same railroads took our many manufactured goods to markets everywhere: Sunray Stoves,Delaware Chairs, and Ciro Cameras.  This year's Fair Booth Exhibit pays tribute to those railroads.
The exhibit offers rare photographs of trains, CD&M interurban rail cars, disaster photos, maps of routes and the people of the railroad. You will also find original railroad artifacts available for viewing including the real bell used on a locomotive.
Visit our booth in the Coliseum* and
step into Delaware County's Railroad History.
*Our location in the Coliseum building has changed, we are now to the left of the main doors.
Free Prize Drawing
Stop by our booth and make a free entry for a drawing to win a prize package worth $70 including:
History of Delaware County book
Delaware History DVD
Historical Society mug & coasters
Full One-year membership to the Delaware County Historical Society.
The Barn at Stratford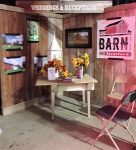 Our fair booth will have a Historic Barn display featuring The Barn at Stratford, our Historic Barn Event Venue.  Learn about this beautiful event space in nearby Stratford that has won Delaware Gazette "Readers' Choice" awards. See photos of weddings, anniversary celebrations, retirement party, business meetings, and corporate events that The Barn at Stratford has hosted. Talk with Connie Hoffman, Venue Manager, or one of our volunteers about holding your event at our historic 1840's barn.
About the Delaware County Fair
The Delaware County Fair , since 1834, has a long tradition of not only providing an enjoyable place for people to exchange ideas, demonstrate skills and exhibit products, but is also a great source for recreation, entertainment, visiting and learning.
The Delaware County Fair hosts many outstanding events including 5 days of the best in harness racing capped off by the prestigious Little Brown Jug on Thursday as well as displays from 100's of exhibitors and a full schedule of motor sports events in the motor sports complex ranging from demolition derbies to school bus racing.
About The Society
The Delaware County Historical Society is a non-profit organization funded by donations and fueled by a marvelous corps of dedicated volunteers. We collect, conserve, research, and catalogue artifacts of historical import. We obtain, maintain, and make available to the community historic places including The Barn at Stratford. We support county school history teachers and students. We prepare and present programs and exhibits year-round to educate and promote Delaware County History.