Delaware County Historical Society
Offers Guided Tours of
Places Impacted by the 1913 Flood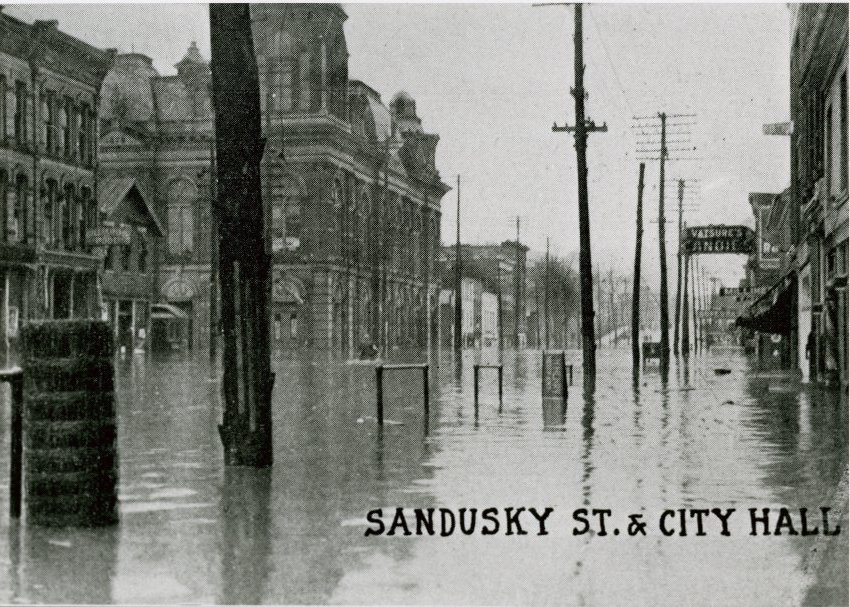 The Delaware County Historical Society (DCHS) today announced that it plans to offer guided walking tours of downtown Delaware, Ohio focused on the impact to the town during the 1913 flood.
Tours will be led by local historian and President Emeritus of the DCHS, Brent Carson, during Delaware's "First Friday" event on May 5. Two one-hour tour options will be available – at 6:00 PM and at 7:00 PM, leaving from the southeast corner of East Winter Street and North Union Street.
"We've all seen the blue Historic Flood High Water Markers around town. The March 1913 flood is a tragic part of our shared history, but it was an opportunity to learn and build a stronger, safer Delaware and Olentangy River watershed," said Donna Meyer, DCHS Executive Director. "This tour is an opportunity to honor those lost and learn more about our town and the history that shaped it. We're fortunate to have Brent, a knowledgeable local, share stories and point out key places impacted by this moment in history."
The event is open to the public at a cost of $15 for DCHS members and $20 for non-members.
Those interested in attending can purchase tickets on Eventbrite by searching "Delaware County Historical Society" or using the following links:
Delaware 1913 Flood Tours – May 5th during Delaware's "First Friday"