The landmark Delaware Post Office Building in Delaware Ohio now serves as the Ross Art Museum of the Ohio Wesleyan University.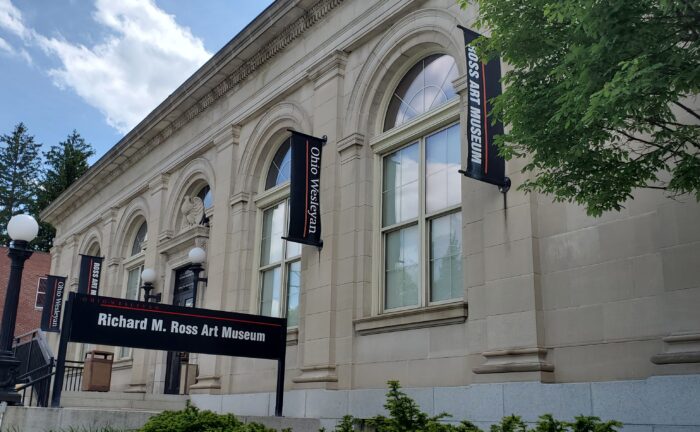 The early decades of the 20th century saw public buildings built across the country, each making a statement about the importance of institutions housed inside their walls.
And, as a bustling city with a population nearing 9,000 inhabitants, a county seat as well as the location for a prominent liberal arts college, Delaware was exactly the kind of place where those investments were being made.
Over 100 years later, the city and the college are both benefiting from the erection of a classically-designed building that has stood the test of time.
Starting in 1893, the Post Office in Delaware was located in the Latimer & Williams Block at 52 North Sandusky Street. In the latter part of first decade of the last century, however, the decision was made in Washington D.C. to erect a brand new facility for its operations.
Land was chosen that at the time was the location for the city's oldest brewery, the Anthoni & Sons Brewery which at its peak was producing some 80 barrels of brew each day. An appropriation of $10,000 was made in 1909 to acquire the site, and an additional amount set aside for plans and the initial phase of construction.
When bids were opened on May 23, 1910, the successful bidder was the John G. Unkefer Company of Minerva, Ohio, which submitted an estimate of $57,484. The firm built hundreds of government buildings in the eastern half of the United States.
Including site, construction, and furnishings, the total price tag for the new Post Office was $75,004.48.
The Delaware Post Office Building is designed in the Italian Renaissance Style, with a stone exterior, finely detailed carving, and a clay tiled roof. An additional amount was authorized during construction to replace planned terra cotta trim with cut stone for the entablature.
When a new facility was envisioned for the Delaware Post Office on Liberty Street, the building was vacated and purchased by Ohio Wesleyan University in 1969. Initially, OWU remodeled the interior to include offices, classrooms, and a gallery. The building was renamed Humphreys Art Hall in memory of Sallie Thompson Humphreys, a Professor of Art from 1905 to 1943.
In 2000, the building went through another renovation, this time becoming the home of the Richard M. Ross Art Museum. The Museum has a permanent collection of over 2,500 pieces which includes pieces by Pablo Picasso, Frank Stella, and Alfred Stieglitz.
Opening in 2002, the Museum was dedicated the following year.