Some of life's favorite times are spent eating out with family and friends, and create a stream of wonderful memories.
The Delaware County Historical Society's 2017 theme
"Restaurants and Ice Cream Parlors"
will open the flood gates of those wonderful times in Delaware County.

Come to the Merchants Building to see:
An original Bun's booth
A table top Juke Box from the Brown Jug Restaurant
A Video cavalcade of Delaware County Restaurants and Ice Cream Parlors
A Tower covered with the names of the restaurants and ice cream parlors that we identified
The famed Nectar Sign that blazed on Sandusky Street.
and many other items and photographs to help stir those memories.
Meet us at The Fair – Visit our fair booth and share with us your favorite places. We might not have it included in the nearly 500+ we have listed.All this at a limited engagement at the Delaware County Fair, Saturday September 16 – 23.
The Barn at Stratford
Our fair booth will have a Historic Barn display featuring The Barn at Stratford, our Historic Barn Event Venue.  Learn about this beautiful event space in nearby Stratford one a Delaware Gazette "Readers' Choice" award in its 2nd year of operation. See photos of some of the weddings, anniversary celebrations, retirement party, business meetings, and corporate events The Barn at Stratford has already hosted. Talk with Connie Hoffman, Venue Manager, or one of our volunteers about holding your event at our historic 1840's barn.
Historical Society Annual Research Project and Fair Booth Theme
Each year, the Delaware County Historical Society selects a research project that surveys a historical aspect of Delaware County life. Prior year themes have been: 2016 – Gas Stations, 2015 – Grocery Stores and Markets.
2017 Theme: Early Restaurants and Ice Cream Parlors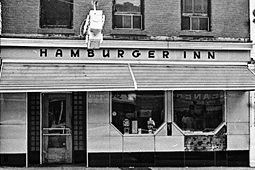 The research project begins with a survey of known establishments and taking photographs of what currently occupies that location. The results of that survey are presented to the community in a beginning of year "kick off" program. In that program, we solicited information from the community about the theme Restaurants and Ice Cream Parlors. The society asked for identification of establishments, descriptions of the establishments, recollections, photographs, objects, and memorabilia from establishments to expand our knowledge and collections.
The second phase of the project is to create the Delaware County Fair Booth Exhibit presenting our accumulated knowledge of the year's theme in artifacts, pictures, and displays. The hundreds of visitors to our Delaware County Fair Booth learn about Delaware County's rich history by viewing and discussing the exhibits. They talk with Society members and volunteers about the exhibit and share their own recollections. Enriching us both.
The project concludes with the Society prepares a "final report" that pulls together what we have learned from the research project over the year. All the information, photographs, artifacts, recollections become part of the Delaware County Historical Society's permanent collection available for future generations.
About The Society
The Delaware County Historical Society is a non-profit organization funded by donations and fueled by a marvelous corps of dedicated volunteers. We collect, conserve, research, and catalogue artifacts of historical import. We obtain, maintain, and make available to the community historic places including The Barn at Stratford. We support county school history teachers and students. We prepare and present programs (like this one) and exhibits year-round to educate and promote Delaware County History.