The Delaware County Historical Society presents
The Spanish Flu Epidemic and Early 20th Century Medicine in Delaware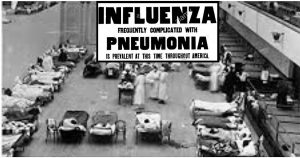 by Alice Frazier and Steve Shaw
 Wednesday, October 10 at 7pm in The Barn at Stratford
The Spanish flu Epidemic of 1918, 100 years ago, the spread around the world and over an 18-month period:
Infected

an estimated 500 million people worldwide (about 1/3 of the planet's population)

Killed

an estimated 50 million victims, including some 675,000 Americans
It is considered the deadliest epidemic in history.
At the time, there were no effective drugs or vaccines to treat this killer flu strain. Citizens were ordered to wear masks. Schools, theaters and businesses were shuttered. Bodies piled up in makeshift morgues before the virus ended its deadly global march.
Why did this happen?….Can it happen again?
Retired physician Alice Frazier and educator Steve Shaw explore the unfolding of the "Spanish flu" and its connection to World War I.
Did you know that advances in early 20th century medical practice were, in part, spurred by combat injuries and by the flu outbreak? That will be discussed as well.
About the Presenters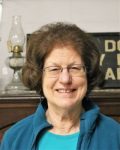 Dr. Frazier practiced Family Medicine at The Ohio State University in Worthington where she also taught medical students.  Many in Delaware County may remember Dr. Frazier from her family practice in Sunbury from 1981 to 2003. She also worked at a clinic in Mansfield and at the Union County Health Department.  Alice Frazier is on The Society's Board of Trustees.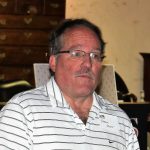 Steve Shaw is a graduate of the University of Rio Grande majoring in history and education.  A Masters in Adult Education from Ohio State University led him to a career in job training programs.  Since his retirement from the Ohio Department of Education, he has been an active volunteer with DCHS contributing in many areas.
Steve's conducted extensive research into World War I, for a 2017 presentation. That research gave him insights about the flu pandemic of 1918 and 1919 and how intertwined the War efforts were with the worldwide scope of the outbreak .
Reserve Your Seats
The program is free and open to the public, however there will be an opportunity to make a donation, which will help defray the operating expenses of the Society.
To ensure adequate seating, registration is strongly suggested for this program Click to Reserve Your Seats Now or Call DCHS at 740-369-3831, ext. 3.
This program will be held at:
This program is sponsored by
For more information,Programs@DelawareOhioHistory.org
or call 740-369-3831, ext. 3.

740-369-3831
CRYDER HISTORICAL CENTER
RESEARCH LIBRARY
NASH HOUSE MUSEUM
157 East William Street, Delaware
MEEKER HOMESTEAD MUSEUM
THE BARN AT STRATFORD
2690 Stratford Road, Delaware