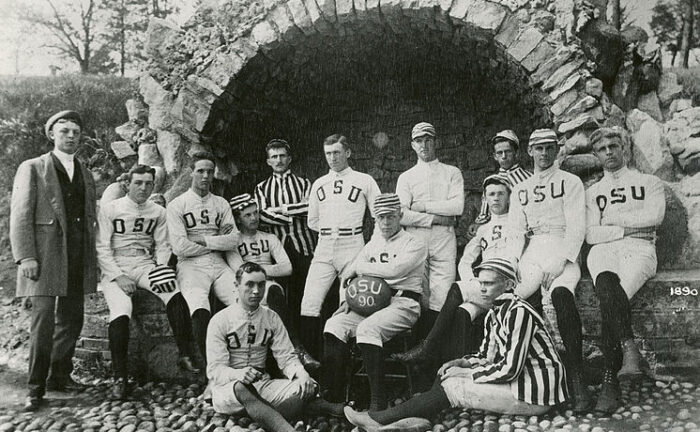 Everything You Always Wanted To Know About: The First OWU-OSU Football Game
18 Aug , 2021

  By 1808Delaware
The imminent arrival of a new football season is on sports fans' minds these days, and so we thought we would share a gridiron-related post.
As those "in the know" know, the storied football history of The Ohio State University started right here in Delaware County. Here are details about the school's first football contest, hosted by the Battling Bishops of Ohio Wesleyan University, which you may not know.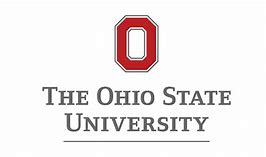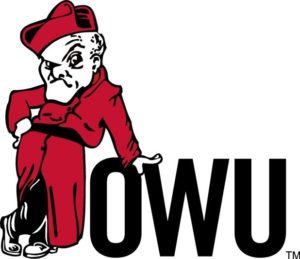 Date: May 3, 1890
Final Score: OSU 20, OWU 14
Attendance: 700
Where played: A site near the sulfur spring and the Delaware Run and north of the historical marker, not far from Selby Stadium. Spectators sat on the hill. The games were later moved as the ball kept falling into the river.
Touchdowns scored by each team: OSU – 4, OWU – 3 (each counted for 4 points)
Extra points score by each team: OSU – 2, OWU – 1 (each counted for 2 points)
Time OSU left Columbus — 6:00 AM
Time OSU arrived in Delaware — 6:45 AM
Time game began — 9:03 AM
Weather — Cool temperatures, drizzling rain
Scored the first touchdown in OSU football history — Quarterback Joseph "Jo Jo" Large. Large had actually previously attended Ohio Wesleyan. He passed away in 1908 and is buried in Whigville, Noble County.
Uniforms — OSU wore gray shirts with "OSU" in scarlet letters, gray pants, scarlet stockings
Other rules differences in 1890:
Players did not wear pads or helmets
No forward passes
Extra point kicks were attempted from the spot where the touchdown was scored
OSU record in 1890 — 1-4
Other facts — This was the only game OSU played that spring, and the team did not yet have a coach; a coach was obtained before the fall schedule of games. The right tackle for OSU was Herbert Johnston, inventor of the electric mixer. OWU played club football as far back as 1875; the faculty forced its termination until 1890.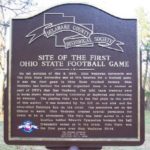 Historic marker dedicated on the site where the game was played — May 3, 2008. Two-time Heisman Trophy winner Archie Griffin shared, "I doubt on May 3, 1890, the participants on the Ohio State-Ohio Wesleyan football game could have realized that they were setting in motion something that would produce what we see today."
Sources: Eleven Warriors, 247Sports.com, The Lantern, Wikipedia