The Forrest Meeker Home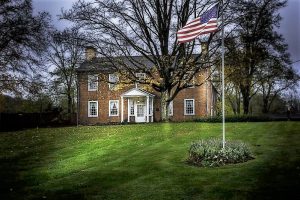 The Forest Meeker House, a two-story brick house built overlooking the river is an excellent example of an early federal-style house.  Meeker House evolution has occurred over the 200 years since it was built. The house has been expanded and remodeled to accommodate the owners' needs.
The "Federal House" is a simple form consisting of a rectangular two-story house with a simple gabled roof. This style of house normally had two rooms down and two rooms up. In the middle were the entrance hall and a stairway to the upper story. There would be two chimneys, one at either end.
The Meeker House Evolution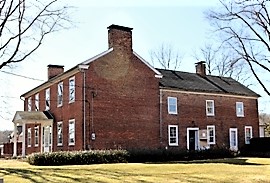 We now believe what we call the present day "Whetstone Room" and "Garth Room" areas, as well as the 4 rooms located directly above, are ca 1817, and comprise the original part of the house structure. The Whetstone Room would have been the original kitchen, having a large cooking fireplace along the west wall, the foundation of which we can still see in the basement. The Garth Room would have been a living area, and the 4 rooms above, were sleeping quarters.
The front, federal-style portion of the house, was added in 1823. This area includes the two large rooms downstairs, two large rooms directly above, central downstairs hall, and the small room above, off the top landing, between the upstairs bedrooms. This 1823 portion also has a large basement space that stretches back to the west wall of what we now call the Whetstone Room.
The modern kitchen off the Whetstone Room, to the south, was originally an open-air porch that was enclosed as a modern kitchen in the 1970s by the Porter family.
The bridal dressing area w/bathroom was added in the 1990s by the Porter family as a downstairs bedroom/living area. The addition was a bedroom, bathroom and dressing area. Never used as a living room.
A basement level extension was added off the south end of the house for office space. This now serves as the Delaware County Historical Society business office.
The Meeker House Today
The 200-year-old house remains in a remarkable state of preservation, inside and out. The windows and doors are mostly original to the construction, and the interior woodwork is walnut, painted in the formal parts of the house. The recesses surrounding the fireplaces have original wood cabinetry with paneled doors and trim, and the floors in the old portions of the house are original ash planking.
The Meeker House Floor Plans