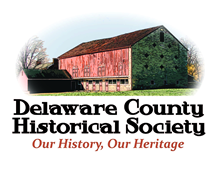 On May 4th was a ribbon cutting of a totally different nature. Del-Co Water Company cut the ribbon for their new Wolf Water Center. This new complex is 18,450 SF with the ground floor featuring office space for their engineering and distribution departments, a food prep kitchen, lounge area, and five pull-through equipment bays with integrated material storage. In addition, the new building features a second-floor training room to accommodate their growing team. It was great getting to construct this new facility and to be a part of their continued growth!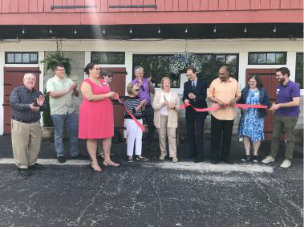 It's said there's a first time for everything and that was certainly true on May 15 when the Delaware County Historical Society cut the ribbon for the new roof at The Barn at Stratford.  The Barn at Stratford, located at 2690 Stratford Road in Delaware, has been owned and operated by the Delaware County Historical Society, since 2010. The stone end bank barn was built by George Bieber in 1848 and serves as an ideal visible and accessible location for DCHS educational programs in which area school children tour the historic property and learn about early pioneer life in the area. The Barn and Meeker House are on the National Historic Register and are one of the most intact homesteads in the county, believed to have been part of the Underground Railroad. The Barn is also used to generate revenue as a location for weddings, receptions, corporate events, meetings, Celebration of Life events and DCHS programs. Its massive interior hand hewed beams serve as a testament to exceptional workmanship from skilled carpenters in our past.
Since 2018, the Delaware County Historical Society has been restoring the Barn to ensure its continued use as a community center. The initial phase, completed on March 31, 2019, included replacement of deteriorated major timber beams and joists, replacing twentieth century steel support columns with reclaimed barn wood columns and bolsters, reinstalling previously removed support columns, pouring concrete footings, installing structural reinforcing tension rods, and removal of a twentieth century freight elevator.
The second phase, which began last year included removing the existing rusted and leaking metal roof and damaged wood rafters and purlins and replacing them with new timber framing as well as a new galvanized double-locking standing seam roof. Work was also done on the south stone wall and included replacing the modern Portland cement with a historic lime-based mortar. This final phase began in August 2022 and was completed in May 2023.
The cost of the restoration process of the Barn totaled over $1,000,000, was funded through the State of Ohio's Capital Biennial budget and managed by the Ohio Facilities Construction Commission. The budget request was supported by State Senator Andrew Brenner and the work was completed by MidState Construction from Marion Ohio.
"It is a privilege to preserve this wonderful piece of our agricultural heritage" said Donna Meyer, DCHS Executive Director. "We pride ourselves on being good stewards of our historic properties so they will continue to educate and serve our community for generations to come. We are especially grateful to the State of Ohio and to Senator Brenner for their support".    Click here for more photos.